2011 AMA National Enduro Jack Pine Results
Chaparral Motorsports
|
July 18, 2011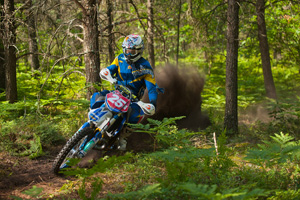 Fahringer Earns First Career National Enduro Win
Husaberg Factory rider Nick Fahringer earned his first career National Enduro win at the seventh round of the AMA National Enduro Series after a day long battle with FMF/KTM riders Russell Bobbitt and Charlie Mullins.


Fahringer, who debuted the new Husaberg TE300 two-stroke, at the Jack Pine National Enduro, was on fire from the get go. He finished every test inside the top three taking the win in three out of six tests. He tied Russell Bobbitt for the third fastest time in the first test, took the 2nd fastest time in the second test and went on to win the next three tests after that. In the final test, he remained strong and finished with the 2nd fastest time behind Bobbitt who had put in a solid last minute charge to try and catch Fahringer.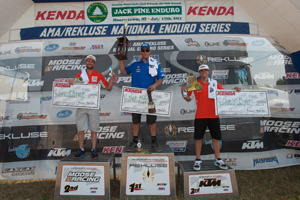 After all six tests, Fahringer walked away with his first career win and the first National Enduro win for the new two-stroke TE300 Husaberg motorcycle, with a 10 second lead over the 2nd place ride of Bobbitt. FMF/KTM's Mullins rounded out the podium, followed by Cory Buttrick in 4th and Fahringer's teammate, Mike Lafferty rounding out the top five.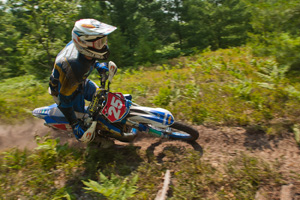 "It feels really good to finally get that first win. I've felt like I have had the speed to do it for quite a while but I could never put all six tests together to grab that win. I feel so comfortable on the new two-stroke. I had no problems today and just had a near flawless day. It was a challenging course today and the heat played a big factor but I felt strong and just kept hoping for the best," remarked Fahringer after his race.


Today's win helped Fahringer close the point gap on Cory Buttrick. Fahringer now sits 4th in overall point standings just 4 points shy of Buttrick. The next National Enduro will take place on July 31, 2011 in Cross Fork, PA.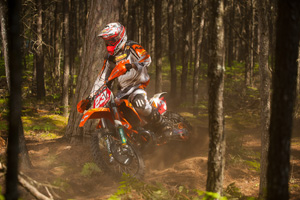 Bobbitt and Mullins Podium at Jack Pine National Enduro

Factory FMF/KTM riders Russell Bobbitt and Charlie Mullins podium at the seventh round of the AMA National Enduro Series held in Moorestown, MI after battling through six special tests in the hot and humid weather.


Bobbitt and Mullins ran at the top of the leader board throughout the day. Mullins led the way from the first test after turning in a time 17 seconds faster than the next closest competitors which were his teammate Bobbitt and Husaberg's Nick Fahringer.


Bobbitt put on a charge in the second test to earn the fast time, and in so doing, gained 13 seconds back on Mullins. Fahringer finished 2nd during this test also shortening the gap between the top three.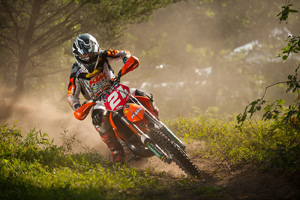 The next three tests were won by Fahringer with Bobbitt and Mullins finishing closely behind. Bobbitt actually tied Fahringer for the fast time in the fifth section. In a last minute effort to try and regain the lead, Bobbitt put in a remarkable final test besting Fahringer's time by 17 seconds but it was not strong enough to take over the lead. Fahringer went on to take his first career win, followed by Bobbitt in 2nd and Mullins in 3rd. The third member of the FMF/KTM Team, Cory Buttrick, went on to finish 4th overall while Husaberg rider Mike Lafferty finished 5th for the day.


With seven rounds in the books, Bobbitt holds the points lead by 6 points over Mullins as they break for two weeks before the eighth round which will take place on July 31, 2011 in Cross Fork, PA.

Overall Results

1. Nick Fahringer

2. Russell Bobbitt

3. Charlie Mullins

4. Cory Buttrick

5. Mike Lafferty

6. Shane Hufford

7. Andrew Delong

8. Zach Klamfoth

9. Thad Duvall

10. Aaron Wegner

Overall Point Standings

1. Russell Bobbitt - 177

2. Charlie Mullins - 171

3. Cory Buttrick - 142

4. Nick Fahringer - 138

5. Mike Lafferty - 104