Westby Earns First Win In AMA Pro Daytona SportBike
Chaparral Motorsports
|
July 11, 2011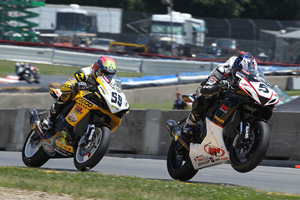 The AMA Pro Daytona SportBike class saw a brand-new winner today at Mid-Ohio Sports Car Course, as M4 Suzuki's Dane Westby staged a brilliant, aggressive ride that took him from ninth to first through some of the toughest riders in the series. For Westby, it marked his career first AMA Pro sprint race victory and a whole new chapter in premier-class-level competitiveness.

"I've never really led at the end before," said Westby after the race, "so it was kind of gnarly the last couple laps. These are the big dogs, so I knew Danny would be right there on the last lap, coming on the braking zones, and he's not playing around. I just tried to be conservative on the inside, and it just barely worked out; I was able to cut him off there at the end on a right-hander and pull it off. This is great," Westby continued, shaking his head and smiling. "At the beginning of year we had some bugs to shake out, but we got some stuff worked out and the bike will pretty much go wherever I want. I could just carve right up the inside."

Carve he did -- after finally getting by Vesrah Suzuki's Cory West, Westby set off after Latus Motors Racing's Jason DiSalvo (then the last rider of the lead pack), faced with the task of making up several seconds. Through a series of deep-braking maneuvers and what Westby himself labeled "a couple of hairball moves, but with no contact," he spun a mediocre start into an unforgettable race.

The rest of their pack, too, did more than their fair share of adding to the gasp-worthy excitement of the overall contest, DiSalvo getting things started off the line by blasting past Josh Herrin (Monster Energy Graves Yamaha) to take the holeshot and early lead. While Herrin systematically tested the inside and outside of DiSalvo's lines, he was himself hunted by a hard-charging Danny Eslick (GEICO Powersports/RMR Suzuki), Tommy Aquino (Y.E.S./Pat Clark/Graves Yamaha), and JHR/RidersDiscount.com's Cameron Beaubier.

Within a handful of laps it was Eslick who'd moved taken over the lead, kicking off some of the most intense passing, re-passing, position shuffling, and door slamming the class has seen yet, Eslick, Herrin, DiSalvo, and Westby each desperately determined to claw their way to the top of the Race 1 podium. Herrin and DiSalvo were both resurgent in the final laps after seeming to slip back somewhat in intensity, but the last corners of the last lap were all about Oklahoma boys Westby and Eslick.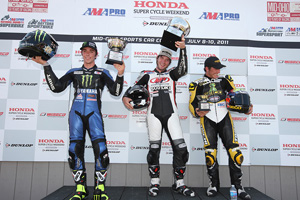 "I just kind of got settled in at the start," said Eslick; "Jason had a good pace and I knew it was going to be hot and that tire wear would be an issue, so I stepped back a bit and tried to just get in the groove of things. I got into the lead and put my head down, hoping to get away there, but everybody's so close when they're dialed in -- there's always four or five guys right there.

"We went back and forth a couple times," Eslick continued, "and for four or five laps no one stuck a wheel on me, but then Josh would come by or Jason would stick a wheel in. And then, with three of four to go, here comes Dane. I thought, 'Whoa -- where'd he come from?' I never saw Dane until that moment, and it kind of threw me a curveball; I wasn't ready for him. I made a countermove after a while and passed him, and then you saw a bunch of stuff that doesn't usually happen [at this track]. It was good, fun racing."

Herrin, who appeared to be sticking to the watch-and-wait strategy that's served him well in recent races, may have stuck to it a little too well in today's contest. "I was just trying to sit back there and see how the pace was going to be," he said, "and what everybody else was doing, and the bike was working good. I just waited too long to make a move, I think. I made an error there on the last two laps, and I need to pay a little more attention to what we're doing and make sure those things don't happen again. Tomorrow should be a little bit better. Dane rode a really good race, and congratulations to him on his first win."

The overall AMA Pro Daytona SportBike points chase continues to tighten, with Herrin and Eslick now tied in points. DiSalvo, West, and Aquino round out the top five.

TV coverage of today's racing begins tonight at 10 p.m. EST on SPEED. For a complete broadcast schedule, visit . For ticket and event information, visit www.midohio.com.

To learn more and be a part of AMA Pro Racing, please visit amaproracing.com and join us on facebook.com/AMAProRoadRacing and twitter.com/AMAProSBK.