Strider World Cup Makes Pit Stop At Mazda Raceway
Chaparral Motorsports
|
July 11, 2011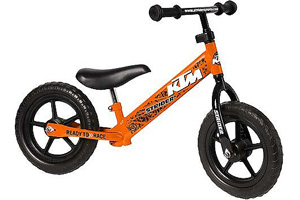 Mazda Raceway Laguna Seca Hosts Strider World Cup Event July 24th


Strider Sports International, the world's premier no-pedal balance bike manufacturer, is bringing a Strider World Cup™ event to Mazda Raceway Laguna Seca on July 24th. Budding young cyclists will ride alongside their heroes during the Red Bull U.S. Grand Prix, part of the MotoGP World Championship.

The season-long Strider World Cup™ series gives toddlers ages two to five the chance for friendly competition at events across the country. You can join in the fun by pre-registering your toddler before July 19th at the StriderSports.com web store. For the $25 entry fee, each racer receives a race entry, a Strider Handlebar Bag with numberplate, a Strider t-shirt, a Strider Cup medal (for all) or trophy (first three places in each age class), and a Strider cowbell for Mom or Dad to ring during the race!

The first 50 registrants will receive two Sunday general admission tickets to the Red Bull U.S. Grand Prix -- a $100 value! Before the big Sunday Strider race, the whole family can enjoy the Strider experience at the Adventure Zone from 8am to 5pm Friday and Saturday. Have your toddler test ride their favorite Strider while playing, learning, and socializing with peers on two wheels!

By participating at the Mazda Raceway event, riders will be eligible for the Strider World Championship in Sarasota, Florida on September 17th.

Strider Sports International CEO Ryan McFarland says, "At Strider, we love seeing really little kids light up with excitement when they get that first taste of freedom, mobility, and adventure that comes from their first bike experience. We're thrilled to have the Mazda Raceway promoting Strider Cup Racing and the Strider Adventure Zone program as we believe it will further fuel that budding passion for riding on two wheels and inspire other kids to get outside, get on a bike, and give it try."

Gill Campbell, CEO and General Manager of Mazda Raceway, adds, "We couldn't think of a better partner than Strider Sports to help reach out to our youngest fans. Bringing the Strider World Cup™ and Strider Adventure Zone to the Red Bull U.S. Grand Prix creates an event with something for the entire family."

For more information, visit www.stridersports.com/mazdaraceway or www.mazdaraceway.com/pages/Red_Bull_US_Grand_Prix



About Strider™ No-Pedal Bikes

If your toddler can walk, your toddler CAN ride a STRIDERTM! Avoid tricycle tip-overs and training wheel wobbles. Go straight to riding on TWO wheels. STRIDER™ No-Pedal Bikes help toddlers age 1 to 5 years old learn balance and coordination BEFORE pedaling, which develops glittering confidence and amazing bike handling skills. So ditch the tricycle and training wheels, and teach your child to ride a bike sooner, better, and safer with a STRIDER™. Available at www.StriderSports.com

About the Strider World Cup™
The Strider Cup™ and Strider World Cup™ events are play experiences designed to let toddlers and young kids age 18 months to 5 years old explore the world on TWO wheels. Whether it is test riding a Strider™ No-Pedal Bike for the first time or racing Striders on a dirt track with other toddlers, Strider World Cup™ events have something for every family interested in giving their child a head start. Balance, coordination, and confidence all develop naturally when children experience group play and friendly competition on Striders. For more information, visit www.StriderCup.com

About Mazda Raceway Laguna Seca
Mazda Raceway Laguna Seca hosts five world-class race weekends each season, with elite road racing series from around the world visiting the Monterey Peninsula every year. Mazda Raceway Laguna Seca is a non-profit organization run by the Sports Car Association of the Monterey Peninsula (SCRAMP). Each year SCRAMP donates approximately $250,000 to charities and groups in the area. For more information, visit www.MazdaRaceway.com.