EnduroCrossers Prepare For The Big Show!
Chaparral Motorsports
|
July 11, 2011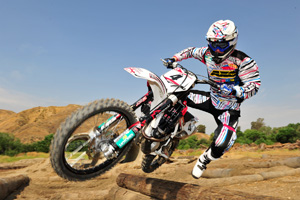 Off-roaders get ready to make Summer X Games debut at round one of the GEICO AMA EnduroCross Series
Off-road racers are getting ready to set foot on the largest stage their sport has ever seen - ESPN's Summer X Games! The top extreme off-roaders in the world - who are used to competing out of the back of their vans in remote woods, mountains and deserts - will be rolling into the STAPLES Center in Downtown Los Angeles where the GEICO AMA EnduroCross Series presented by Lucas Oil will kick off, and off-road motorcycle racing will make its grand X Games debut!

"This is huge!" exclaimed Zip-Ty Husqvarna's Ty Davis. "Being on the X Games is almost like making the 6:00 o'clock news. Everyone watches X Games! I'm glad to see EnduroCross become a part of it. Fans are going to definitely get something to watch."

"Moto X" racing made its way into ESPN's X Games a few years ago, but for the first time ever, off-road racers will have a crack at the big stage. Rather than the slick style and big hits of Supercross that fans are accustomed to seeing, they will see riders wildly traversing boulders, tackling logs, splashing through water-crossings and scaling earth mover tires.

"Off-road has never gotten the clout that motocross or Supercross has," Davis commented. As one of the few riders in history to earn a Supercross championship as well as multiple national off-road championships, Davis has insight on the stark differences between the two disciplines of racing. "Obviously it's hard to capture the experience of off-road racing for mainstream fans, but bringing it into a stadium is great! You can let the crowd see how gnarly it all really is."

Monster Energy Team Green's Jason Smigel agrees. "It's pretty neat to see off-road come into the main stream. It's a huge stage for our guys to showcase their talents. Not a lot of people get a chance to go out to the desert or go into the woods, so it's exciting for them to bring it all into a stadium in front of a large crowd."

Teams such as Zip-Ty Husqvarna and Monster Energy Kawasaki are not only preparing for the excitement of X Games, but for the start of one of the most prestigious off-road championships of the year. "It's X Games, but it's a points-paying round of EnduroCross. So it's our job as a team to put the fact that it's X Games aside for a little bit and just get ready for our season."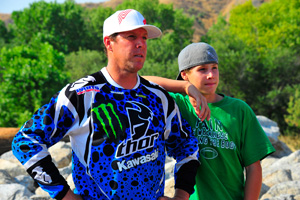 Still, for some, such as Kawasaki's Destry Abbott, the X Games event presents an opportunity of a lifetime. "I'm not going for the championship because I don't get to do the whole series. But I really want to do good at X Games and put in good results. I'm pretty happy with my career and what I've accomplished, but I think if I got a medal at X Games, that would be my biggest accomplishment, as far as racing goes."

For more information on the GEICO AMA EnduroCross Series presented by Lucas Oil, including a list of invited riders, go to www.EnduroCross.com.

X Games 17:
ESPN X Games celebrates its 17th year by returning to Los Angeles with more than 250 of the best action sports athletes competing for the most coveted medals in Skateboard, BMX Freestyle, Moto X and Rally Car Racing. X Games 17 takes place July 28 - July 31, 2011 within the downtown area among four world-class venues - STAPLES Center, Nokia Theatre L.A. LIVE, the L.A. LIVE Event Deck and Lot 7.

STAPLES Center is the place for all things Moto X; featuring Moto X Speed & Style, Step Up, Best Whip, Racing & Enduro. Fans of BMX and Skateboard Vert will experience the thrilling competition when they literally take center stage inside Nokia Theatre L.A. LIVE.

For more information on ESPN X Games, visit www.espn.go.com/action/xgames. To purchase X Games 17 tickets ( Click).

X Games 17 On TV
More than 30 hours of live X Games 17 programming will be shown on ESPN, ESPN2 and ABC - all showcased in high-definition and airing July 28-31. Don't forget X Games Online: ESPN International, Xgames.com, ESPN Classic, ESPN3.com, SportsCenter, and ESPN2's X Center will also provide coverage. For additional X Games 17 info, go to www.xgames.com