2011 AMA Pro Superbike Lexington Results
Chaparral Motorsports
|
July 11, 2011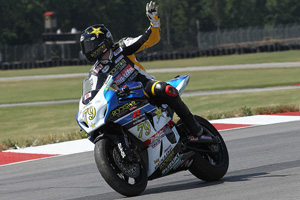 Young Takes Emotional SuperBike Victory at Mid-Ohio Sports Car Course
While a Lap 8 red flag changed the fortunes of many, Saturday's AMA Pro National Guard SuperBike winner Blake Young (Rockstar Makita Suzuki) and runner-up Josh Hayes (Monster Energy Graves Yamaha) ran down to the wire in a contest that was clearly inevitable. The lead pair were hunted throughout the race by the field's strongest would-be challengers, including third-place finisher Tommy Hayden (Rockstar Makita Suzuki) and National Guard Jordan Suzuki's Roger Hayden, but Young had extra motivation pushing him toward today's victory.

"Today is the fifth anniversary of my dad's passing," said Young, "and that put a little bit extra on me today. This place is pretty special to me -- I won my 2005 Horizon Award here with him, and I really wanted to get the win today and dedicate it to him. Hats off to Josh, he rode really, really good. When I was back in fourth place, I thought, 'Is this one of those days when we ride aggressive to the front, or do we let him go?' But I came into this race just really wanting to win it for my dad's fifth anniversary, and that's what we did."

The win didn't come easily for Young -- he crossed the finish just .177 seconds ahead of Hayes -- and the closing laps saw frequent lead changes as Hayes attacked for P1 again and again. "I rode a little rough in the beginning," said Hayes, "and made a lot of mistakes. The restart was probably the best start I've gotten all year, but ... I don't know if I've ever had a front end move around that much in a race, and I just didn't have the confidence to stick it in there. So that's what we had today, and I think tomorrow we'll try to sort out a solution for the front end to be a little big stronger. [Blake and my] strengths are different, and right now he seems to have the trump card. So we'll keep working to come up with something we can beat him with."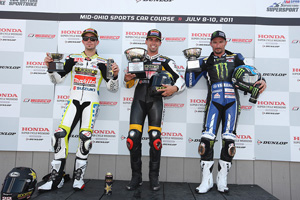 Tommy Hayden -- who'd earned a fifth-place grid position after struggling in qualifying -- crossed the line third, having stuck close behind the lead pair on the restart. A terrible first start had forced him to fight his way up from eighth to fourth, "but once we got going," said Hayden, "even on the first start, I thought I had the speed to run with these guys, and I felt pretty smooth. With five to go I really thought I was going to win that race; I felt hooked up pretty good and it seemed like I could make it happen. But the last couple laps Blake seemed to step it up a little bit, and Josh was sticking his wheels in, and with the tires getting greasy I couldn't really send the front in there. Overall we've been struggling a little bit this weekend, so I felt the race went pretty well given all that."

While Roger Hayden was able to stay solidly in the lead pack both before and after the red flag, ultimately finishing fourth, his Jordan Suzuki teammate Ben Bostrom -- who'd run as high as third prior to the flag -- went wide shortly after the restart and was relegated to a disappointing fourteenth.

On the emotional flip side, Chris Fillmore piloted the KTM/HMC Racing RC8R to an impressive seventh-place finish in the OEM's factory AMA Pro SuperBike debut, besting San Diego BMW's Steve Rapp after a race-long battle. Ahead, M4 Suzuki's Martin Cardenas led the chase group across the line in fifth, followed by Foremost Insurance/Pegram Racing's Larry Pegram. David Anthony (ADR Fly Racing) and JD Beach (Cycle World/Attack Performance Kawasaki) rounded out the top ten, respectively.

Iron Horse BMW/ESP rider Chris Peris, whose crash in the Keyhole brought out the red flag, was transported to a local hospital for evaluation. His team has reported the Canadian is basically okay.

Young's Race 1 victory moves him into the overall AMA Pro National Guard SuperBike Championship lead for the first time, just three points ahead of Hayes. Tommy Hayden, Cardenas, and Pegram round out the top five in current standings.

TV coverage of today's racing begins tonight at 10 p.m. EST on SPEED. For a complete broadcast schedule, visit . For ticket and event information, visit www.midohio.com.

To learn more and be a part of AMA Pro Racing, please visit amaproracing.com and join us on facebook.com/AMAProRoadRacing and twitter.com/AMAProSBK.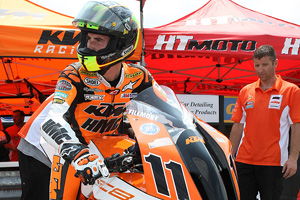 Fillmore 7th at AMA Superbike Debut
HMC/KTM Racing Team's, Chris Fillmore, earned an impressive 7th placed finish at the AMA Pro Superbike race held in Lexington, OH at The Mid-Ohio Sports Car Course. The sixth round of the AMA Pro Superbike Racing Series marked the first professional Superbike race for Fillmore and the debut of the KTM 1190 RC8 R Race Spec motorcycle on the Superbike circuit.

Fillmore already set the bar higher than expected when he qualified 10th fastest in timed qualifying. "Nobody expected us to be inside the top ten. We really haven't had much time on the bike and are way behind in terms of set-up compared to the teams that have been racing all season," remarked Fillmore. "When I qualified 10th fastest, we were all excited and couldn't wait for the race to begin."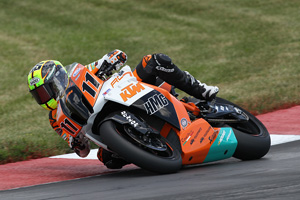 Fillmore started from his 10th pick on the third row. He was running a smooth race in the first of six laps of the twenty-one lap main event when a red flag was flown. BMW rider Chris Peris had crashed and caused a red flag which gave riders a 10 minute pause before the restart of the race.

"It's legal to make a few changes to your bike set-up while a race is red flagged. We took advantage of that time and made a few tweaks to my set-up which helped tremendously when we returned to racing action," remarked Fillmore.

It didn't take long for Fillmore to turn on the throttle and begin to creep his way up inside the top ten once the restart began. Fillmore passed JD Beach for 9th on lap 8 and turned heads again a lap later when he passed Chris Clark for 8th position. Fillmore continued to charge and soon found himself in the middle of a four-way battle for between Larry Pegram, Steve Rapp and Martin Cardenas. With six laps to go he was still in 8th place closing fast on Rapp.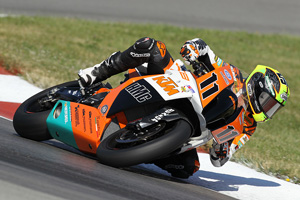 A lap later and Fillmore had worked his KTM into 7th place making the pass stick on Rapp. He spent the remaining laps on the tail of Cardenas trying to make the pass. "I attempted to make the pass a few times but couldn't make it stick. I decided it was best to get a solid finish than to crash in my first race trying to make a last minute pass," stated Fillmore. Fillmore turned his fastest lap of the race on the seventeenth lap turning a 1:26.639. The Superbike rookie went on to finish the race in 7th place and secured a spot in the history books as the first KTM rider to compete in Superbike racing aboard the 1190 RC8 R.

"We couldn't be more thrilled with the result we had today. Fillmore rode much better than any of us had anticipated considering the time we have had to prepare for this event. He was very close to passing for 6th at the end of the race and we think with a few changes he could be very close to that position tomorrow," remarked HMC/KTM Race Team Manager Mitch Hanson.

Overall Results - AMA Pro Superbike Class
1. Blake Young
2. Josh Hayes
3. Tommy Hayden
4. Roger Hayden
5. Martin Cardenas
6. Larry Pegram
7. Chris Fillmore
8. Steve Rapp
9. David Anthony
10. JD Beach
11. Geoff May
12. Jeremy Toye
13. Chris Clark
14. Ben Bostrom
15. Jordan Burgess
16. Jason Farrell
17. Reese Wacker
18. Eric Pinson
19. Shane Narbonne
20. Chris Peris