Lorenzo Wins Mugello GP
Chaparral Motorsports
|
July 7, 2011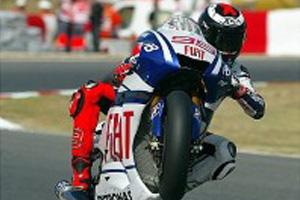 Casey Stoner has been dominating in MotoGP as of late, but he didn't have enough juice to pull out the win in Mugello, Italy, with Jorge Lorenzo passing him late in the race to take the victory.

Italian racer Andrea Dovizioso raced well in his home country, as he was also able to pass Stoner for second place. Stoner, who still retains the overall points lead, blamed his poor race on tire pressure. The team had apparently noticed that the tire temperature would heat up during the race, but were advised to keep it the same and not compensate for this. Stoner feels this ultimately cost him the race, as he lost grip after snagging the lead.

"As soon as I tried to open the gas the rear wanted to come around, so it was pretty much damage limitation," he told Cycle News. "I lost the front a couple of times pushing into corners, so I just decided to try and slow it up a little bit and see what I could do when the caught me."

American racer Ben Spies, fresh off his first win, continued his strong form, placing fourth. However, Spies made two errors early on that prevented him from reaching higher in the race.

Dani Pedrosa did not impress in his first race back from collarbone surgery, ultimately placing eighth.