Baggett Dominates 250cc At RedBud
Chaparral Motorsports
|
July 7, 2011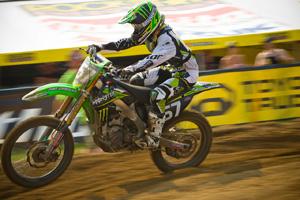 Blake Baggett turned in a dominant performance over the weekend at RedBud Raceway in Buchanan, Michigan, winning both motos in the 250cc motocross class.

Justin Barcia jumped out into the lead in the first race, but crashed out on lap four. Ryan Sipes took advantage and the lead, but he ultimately couldn't hold off the charging Baggett, who passed him on lap nine.

The second race was somewhat less exciting, as Baggett simply jumped out to an early lead and ran wire-to-wire.

"Going 1-1 is a pretty good day I'd say," Baggett told Cycle News. "The championship is still really far out. Neither of my teammates has had a bad race yet, but if they do, I want to be there to capitalize. I just want to be there in the end, and if it happens, it happens. No matter what, I'm going to give it my all."

Dean Wilson, the overall points leader, didn't allow Baggett to gain too much on him, as he finished second in both races. Wilson now holds a fourteen-point lead over Bagget. Tyla Rattray, who is also in the hunt for the championship, finished 5-3, good for third overall.