Kendon Commemorates 20th Anniversary With Limited Edition Dual Rail Motorcycle Trailer
Chaparral Motorsports
|
July 6, 2011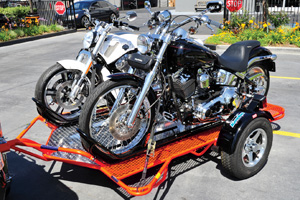 Kendon Industries, Inc., the originator of Stand-Up motorcycle trailers and innovative motorcycle lifts, has taken the wraps off its 20th Anniversary Dual Rail Motorcycle Trailer. The latest evolution in the patented product line, this limited edition version includes a show-stopping custom black/orange two-tone color scheme and loaded with accessories and upgrades that are not available on any standard model.

"This trailer is the result of 20 years of hard work," says Kendon President Frank Esposito. "Equal amounts of inspiration and perspiration have gone into this design... We honestly sweat the smallest details!" It is exactly this attention to detail that defines the Kendon difference. Take for example the high-intensity LED tail lights, smooth rolling high mileage radial tires, lightweight aluminum wheels and American-made DOWCO trailer covers tailored to fit. "These are all proven elements we learned from years of experience and from listening to our customers," explains Esposito.

Despite packing in 20 years worth of refinements, the same convenient portability and easy storage that have been Kendon hallmarks for the past two decades remain. This two-rail motorcycle trailer can be easily folded-up and moved on its own built-in casters for convenient storage in an out-of-the-way corner of your garage when it is in its Stand-UpTM configuration. Actual dimensions of the trailer are just 27-inches deep by 93.5-inches tall by 84 inches wide.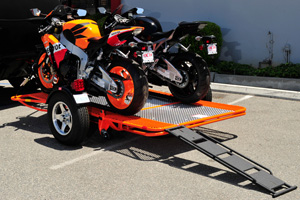 Standard features of this USA-made trailer include a whopping 2,000 lb. weight capacity and a full size spare tire. It also has a lower platform than prior models with a longer, user-friendly ramp with side rails, a new rear section lockdown clamp and integrated wheel chocks for a better loading experience. All of Kendon's dual rail trailers incorporate independent torsion bar axles, which makes towing one or two bikes safe, quiet and smooth.


Accessories and upgrades incorporated into the Limited Edition 20th Anniversary model include:






Limited Edition Orange & Black Custom two-process two-tone Paint Job

New longer, wider, flat panel Deluxe Loading Ramp with guard rails and reinforced replaceable ramp hook

LED Tail Light Kit

Aluminum Wheels with Radial Tires

Locking security lug nuts to deter wheel theft

Crank Down Swivel Jack Stand with dolly wheel

NEW Rear Section Lockdown Clamp - The trailer can now be used in the fully open position for any application.

American Made Custom Fit heavy duty outdoor DOWCO Trailer Cover

Full Size Chrome Bias-Ply Spare Tire

8 Locking Ratchet Tie-Downs and 8 Soft-Ties

20th Anniversary Limited Edition Graphic

Anti-bolt-cutter Coupler Lock

Rollaway trailer wheel chocks




The accessory package delivers a total towing solution for the customer at a savings of more than $500.00, compared to being purchased separately.

The 20th Anniversary Limited Edition Dual Motorcycle Trailer is available now from Kendon dealers nationwide for $3,895.95 and is distributed exclusively by Tucker Rocky/Bikers Choice in the USA. More information about the 20th Anniversary Limited Edition trailer and standard Kendon Stand-UpTM motorcycle trailers and lifts can be found at www.KendonUSA.com or by calling 714-630-7144.