Spies Discusses Landmark Win
Chaparral Motorsports
|
July 1, 2011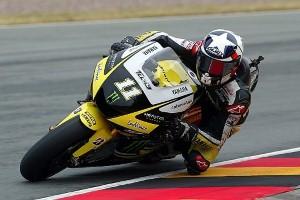 Ben Spies' landmark MotoGP victory this past weekend kicked off lots of celebrations in the American motorcycling community, as it's not often that the U.S. gets to celebrate one of their own on top of the podium. Spies' first ever win, thoroughly deserved after coming close several times, was a beautiful victory for the Yamaha rider, who led wire-to-wire.

Spies says he's gotten a ton of phone calls, emails and texts from wellwishers all around the world who were happy to see the Texas native finally put it together and win a race. Now, the racer is hoping to turn all of that momentum into a positive weekend at Mugello in Italy.

"Going back to Como for a couple of days and with all the fans and community have been very positive, and it hasn't completely sunk in yet, but I'm starting to understand what's happened and it is a great feeling," said Spies. "I'm still thinking about it today and using the confidence and the morale coming into this weekend, but tomorrow is Mugello and we have to forget about last weekend and give 100 percent and not think about what just happened."

Spies will have a formidable test in Mugello. The track is typically known as Ducati's "home course" because of its location in Italy, and Valentino Rossi has always been strong on the track. Dani Pedrosa is expected to be back in the mix after collarbone surgery, and a recent repaving of the track will take some getting used to.