Learn From The Pros: Clean Air In. More Power Out.
Chaparral Motorsports
|
July 1, 2011
An easy-to-follow guide to cleaning your air filter.
A new air filter costs about $30. Cleaner and oil needed to maintain that filter will cost you a buck or two per use. A new engine will cost you about a grand. You decide.

It's not even just about the "insurance" aspects of a properly clean air filter. The engine in your bike or ATV is basically a pump. Fresh air and fuel go in, power and exhaust come out. The better that pump can inhale, the better it can exhale. And that demands a clean air filter. And the best part is, you can clean the air filter on your motorcycle, ATV or side-x-side vehicle.

Air Filter Maintenance
Whenever I drop my car off for an oil change, it drives me crazy that the air filter is not washable. Living in the Southern California smog belt, seems like my car's air filter is always dirty. I've tried blowing the dirt out with compressed air, but that does little. Why can't I slap a nice washable foam air filter on this vehicle? One that I can remove with hand tools and wash it in my garage? Better question, why don't I just ride a motorcycle more often?

It's incomplete to simply refer to this as "cleaning" your vehicle's air filter. You need to perform complete and regular air-intake inspections; it's a vital part of preventive maintenance on your motorcycle or ATV. Best of all, it's relatively easy, is a tool-free job on some vehicles, and it's cheap.

Most ATVs and off-road motorcycles use washable foam air filters as stock equipment. Some utility ATVs, however, come stock with paper air filters. These paper filters may do an adequate job of filtering dirt and grit, but they're not washable. You simply need to keep a supply of these paper filters on hand, especially if you ride in very dusty or muddy conditions. A better option is to replace them right away with an aftermarket foam filter that you can clean and oil for preventive maintenance.

Here's an easy-to-follow guide to maintaining your vehicle's air filter.

1. Remove It
For this project, we turned to an abused Honda CRF sitting in the shop. As on most off-road bikes and ATVs, the CRF's filter is found beneath the seat. On some bikes, like KTMs, the filter access is through a side panel. And some ATVs have air filter access in front of the seat, like on a Suzuki KingQuad or Kawasaki Brute Force; better to have the air intake high to minimize chances of water penetration. On many ATVs - sport or utility - air filter access is a tool-free job. That means the filter is easy to access and you should check
it often.

You should know what a clean air filter looks like. That way, when you see a dirty one, you'll know it's really dirty. Obvious? Not always. Some "clean" filters are yellow, some are orange, some are off-white; others are dark enough that you can't always see the dirt.

On our old Honda, one wing nut secures the foam filter and its cage in place. Some filters snap into the airbox housing without hardware; take special care with those later with filter oil and replacement.

When you remove the filter, set it aside and clean that air box. Wipe it thoroughly but carefully so you remove the dirt and don't displace it into the engine. When the air box is clean, replace the seat and/or air box cover while you clean the filter. This will reduce the risk of your buddy walking buy and pouring his Monster Energy drink into your bike.

Most dirt bike filters use a plastic or aluminum internal cage that holds their shape in the airbox. Separate the filter from the cage, and inspect both for wear. An old filter - one that's been removed and cleaned several times - may have torn foam or splits where the pieces are glued together. You can't fix this; you have to replace the filter. The filter cage is less likely to have damage, but if it's cracked or broken, it too must be replaced.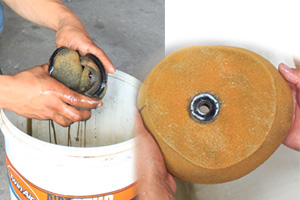 2. Clean It
No matter what your old riding buddy says, do not use gasoline to clean your air filter. Yes, even at $4 per gallon, gasoline costs less than air filter cleaning fluids. But gas will devour the glue holding your filter together, and will not-so-gradually degrade the foam element, rendering it ineffective.

Some people use mineral spirits, and while that liquid is better than a solvent like turpentine, many purpose-built cleaners are available to thoroughly and safely clean your vehicle's air filter. We often use a system from Twin Air that includes a handy cleaning bucket as well as the cleaning fluid.

Fill the bucket with the cleaning fluid, and drop in the dirty filter, which sits just above bucket-bottom on a wire cage. Let it soak, then gently work out as much dirt as you can with your hands. Don't wring too hard or you could tear the filter. This is the pre-cleaning stage, and is meant to loosen dirt and grit from deep inside.

From the bucket, take the filter to a sink of warm water and soap. This removes the dirt as well as cleaning solution. You'll see the dirt coming off into the sink as you massage the filter clean.

Now the filter must dry completely before you oil it and prep for installation. Don't rush this; if you oil it too early you'll trap water inside the filter foam and defeat its purpose.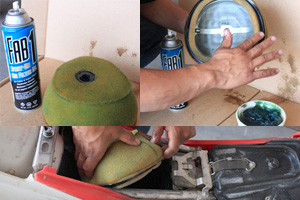 3. Oil & Install
Filter oil is debated as hotly as filter cleaning liquids. Know this: A well-oiled foam air filter does trap more dust and dirt than one not oiled, or simply oiled poorly. Also, it's an easy process and filter oil is inexpensive.

We used a [mageProductLink sku="353-0522" title=""]spray-on filter oil[/mageProductLink]; we like the easy application. Just spray the filter completely - protecting the surrounding area from any over-spray - and work the tacky oil into the pores of the filter, from both the inside and out. When it's oiled completely, insert the filter cage back inside the foam filter. The last prep step is to coat the base of the filter - any part of the filter that contacts the airbox surrounding the air intake - with a waterproof grease. This forms a seal that would be otherwise un-filtered.

With your vehicle's filter cleaned and oiled, installation is a snap. Realizing how easy this process is, you may want to have a spare filter on hand - clean and oiled. You can keep pre-oiled filters in plastic bags; just let the bag breathe a little, and don't leave them in the bag too long.

Twin Air Pre-Oiled Air Filter
$22.99 - $35.99

Twin Air Dual Stage Air Filter
$13.99 - $87.99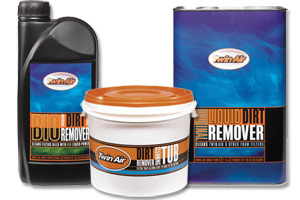 Twin Air Filter Cleaner and Cleaning Tub
Removes dirt, dissolves grease without hardening or damaging filter. Resealable tub has filter tray allowing particulates to sink to bottom.
Filter Cleaner ... $36.99
Bio Dirt Remover 1 Liter ... $19.99
Cleaning Tub ... $16.99