Product Spotlight - Solar Battery Tender Review
Chaparral Motorsports
|
June 30, 2011
[mageProductLink sku="321-2128" title=""]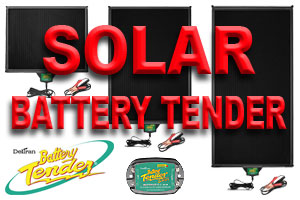 [/mageProductLink]

Kleenex. Band-Aid. Battery Tender. Three products whose names have become generic representations of entire product categories. Only one of them is now solar powered. Guess which one.

Solar-powered battery chargers are nothing new. For several years, hikers and campers have used the sun to charge cell phones and laptop computers. You can place a portable solar array on your truck's dashboard to charge the vehicle's 12V battery. Many of these products do not, however, come with a charge controller that will shut off the power when charging is complete.

Deltran, makers of the Battery Tender brand of battery chargers, recently introduced a new solar-powered Battery Tender with a built-in charge controller. Yes, the "Tender" name you're most familiar with now takes advantage of power from the sun, whether your vehicle needs a complete charge or simply "tender" maintenance.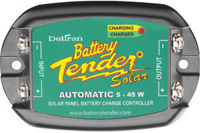 Deltran offers its solar-powered Tender in a few varieties. You can purchase the [mageProductLink sku="321-2131" title=""]charging controller[/mageProductLink] separately and connect it to your own solar-power system. Or you can purchase a 5-, 10-, or 15-watt [mageProductLink sku="321-2128" title=""]Deltran solar panel[/mageProductLink], each of which includes a Deltran charging controller. The 5-watt solar panel measures about 13 1/4 x 16 inches, weighs just three pounds, and will easily charge your ATV, side-by-side vehicle or your street motorcycle. The system is sized to fit in some motorcycle luggage bags and can easily be carried on your ATV or side-by-side. The largest 15-watt panel measures 16 x 38 inches, and weighs about eight pounds. All three use the same charging controller to deliver a 12-volt nominal current, plus they are waterproof, and deliver reverse polarity protection in case you incorrectly connect the alligator clamps to the vehicle's battery.

These solar-powered Battery Tenders are perfect for locations without electric power on tap. Like the garage where you store your ATV or enduro motorcycle. Or the location where your boat or side-by-side vehicle sits on a trailer. These Tenders also work well if you simply want to use sustainable sources to charge or maintain your motorcycle between uses.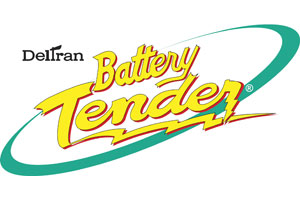 Deltran's Battery Tender products were first introduced in 1989 and used mainly in military installations, and they're still used there today to power-up Bradley Fighting Vehicles, for example.

Powersports enthusiasts have embraced the Battery Tender for its ease of use - just plug it in and the unit charges your vehicle's battery and maintains it safely without fear of overcharging. Now with solar-powered capability, the advantages of the Deltran product expand even further.

The complete system with panel and controller retail for around $80 and up. The solar controller can be purchased separately for about $27.