Product Spotlight - Oakley Wind Jacket
Chaparral Motorsports
|
June 29, 2011
Originally Designed with Motorcycle Riders in Mind.
Oakley Wind Jacket
There's something about Oakley. When this company enters a market, it tends to bring in a cool factor that was before not present. From the origins with BMX handlebar grips in the mid-70s, to sunglasses, shoes and more, Oakley style and technology makes an impact.


This summer, the company expands its presence in the street motorcycle world with a new product designed for the needs of cruiser motorcyclists. The Oakley Wind Jacket is a sunglass product designed for streetbike riding. It features interchangeable lenses using Oakley's unique "Switchlock" technology - tested and proven in a line of "Jacket" eyewear Oakley's had available for some time. Changing lenses is fast and secure with the
Wind Jacket.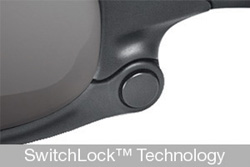 The Wind Jacket also has a removable goggle-like gasket that surrounds the eyes to reduce wind intrusion. The material will not dry or wear out quickly like other glasses with foam around the eyepieces. No, this is not a brand-new idea. It may, in fact, be the oldest idea in motorcycling eyewear. But it's the first such product to feature Oakley lens and frame technology. That's what makes Oakley's entry in street motorcycle
eyewear special.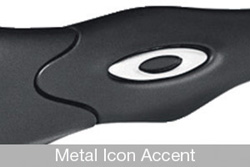 Oakley created its High Definition Optics (HDO) lens technology to deliver the highest quality visual representation possible without prescription lenses - though those are available for these and other Oakley eyewear products, too. The HDO lenses are designed to deliver blur-free vision with no distortion, for both straight-on and peripheral vision.



Most importantly, street motorcyclists can feel secure that these lenses meet all ANSI Z87.1 standards for impact resistance. (ANSI is the American National Standards Institute.) Oakley lenses use a special polycarbonate material that is strong and clear for both safety and clarity. Riding with eye protection is the law in most states, and it's simply a great idea everywhere. Impact protection is a major focus for Oakley, with these and other motorsports eyewear.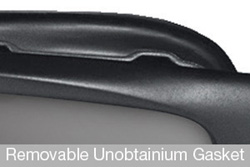 The Wind Jacket lenses are treated with an anti-fog material, and they also filter out 100 percent of harmful UV rays. The glasses are available in Black, Black with Silver, and a special Ducati signature series. Each pair includes two sets of lenses, a retainer strap, and a soft carrying case. Retail prices start at $220.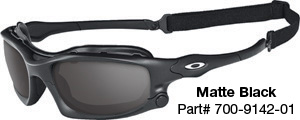 Lens:

Distortion free lenses via Oakley's cushioned lens suspension system
Oakley Anti-fog treated lenses (backside) to minimize moisture build-up
Includes Oakley HDO lenses for both bright light (Warm Grey) and low light (Clear) conditions
Optimized peripheral vision and side protection of 8.75 base lens curvature
Optical precision and performance that meets all ANSI Z87.1 standards
Impact protection that meets all ANSI Z87.1 standards for High Velocity and High Mass impact resistance
Maximum clarity at all angles of vision with patented XYZ Optics®
UV protection of Plutonite® lens material that filters out 100% of UVA/UVB/UVC and harmful blue light up to 400nm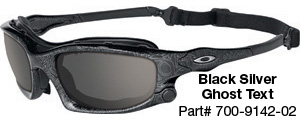 Frames:
Switchlock interchangeable lens technology allows fast, secure interchangeable lenses
Durability and all day comfort of lightweight, stress resistant O Matter frame material
Comfort and Performance of Three-Point Fit that holds lenses in precise optical alignment
Metal Icon accents

Accessories:
Protective Oakley Soft Vault included
2 sets of Oakley HDO lenses included for bright and low light conditions
Soft, removable Unobtainium gasket for added comfort and reduced air velocity inside of frame
Includes removable retaining strap for added security