Instant Replay - Helmet Cameras
Chaparral Motorsports
|
June 29, 2011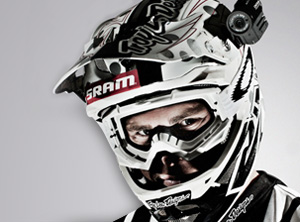 All of a sudden, your simple re-telling of last weekend's ride is kinda boring. Did you happen to video tape that?

Even just a couple years ago, asking the "video tape that?" question was unheard of. Today - thanks to helmet-mount cameras like GoPro, MotoComm and Contour - the days of picture-less story telling are numbered.

Like some of the best powersports inventions, most of these awesome story-tellers were created by enthusiasts simply looking for a better way. Today's "helmet cameras" are actually action-sports cameras that will mount on and film almost anything and anyone that moves. From motorcycles to skateboards, surfers to parachutists, anyone with a moving story to tell can use one of these cameras.



Contour
Even smaller than the GoPro, mountable hands-free video cameras from Contour also shoot in 1080p high-definition. (If the name "Contour" seems new to you, don't worry. The company has been around for years, they simply changed names a few times, from Twenty20, to VholdR, and now Contour).

The Contour 1080p camera ($250) is about four inches long and weighs just about five ounces; you won't even know it's mounted to your helmet or handlebars. You can change the video resolution from 1080p down to 720p, and there is also an "Action 720p" setting to capture high-speed action
at 60 frames per second, and for slow-motion editing. The Contour camera uses a 135-degree wide-angle lens that delivers amazing point-of-view without fisheye distortion.

Contour has taken action sports filming to a whole new place - literally - with the ContourGPS, which retails for around $350. With this camera, you get all the easy mounting and quality playback features, as well as GPS receiver tracking and documentation. When you view the action, you also get a Google-earth style playback of your exact location. It also allows you to track altitude and speed - it's a video and lap-time recorded in one.

Using the ContourGPS mobile application and Bluetooth connection, you can watch the filming in realtime on your iPhone or iPod Touch.



Motocomm
In 2000, MotoComm introduced its communication systems to motorcycle riders. The company has developed high-quality helmet-to-helmet communicators, using experience in electronics manufacturing and a love for motorcycles. Now MotoComm has mountable video cameras as well.

The Ridercam 30F ($190) is a small package camera that delivers the basics of videography. It shoots in VGA (640 x 480) or QVGA (320 x 240) resolution - fine for watching on your laptop and loading to YouTube. The package includes a variety of mounting accessories as well as a handy carrying case.

MotoComm recognized the boom in mobile video and created the DSR-100 3G camera. This small mountable camera records 3G file format to an internal 1GB memory space. These files are optimized for use on mobile phones. You can add a 4GB SD card for extended storage. This kit retails for $360 and includes a handheld video playback monitor with a 2.5-inch LCD screen. It also includes a USB computer connection and an RCA cable for TV playback.

The DSR-100 3G system also plays MP3 music files, and it comes with helmet speakers - so your camera is now a complete music system.



Go Pro®
The idea is not new. Nearly every teen-age boy in the 1990s used a HandyCam and a roll of duct tape to film a skateboard trick or motocross jump. Fortunately, in 2002 two guys created a company called GoPro - and we no longer need duct tape.

The GoPro HD Hero line of cameras has revolutionized action sports filming. The relatively simple cameras were first connected to surfboards, but found an even larger
world of opportunity in powersports. Today, GoPro video cameras are sold in more than

The original HD Hero shoots professional quality video and still photos, all while securely strapped to your helmet or your motorcycle. For powersports enthusiasts, there are two main camera packages to consider. The HD Hero 960 is the least expensive at about $180. It shoots in 960p, 720p or 480p modes, and also snaps 5 megapixel still photos, even in a hands-free, automatic time-lapse mode. The package includes a variety of mounting accessories, a waterproof housing, and all the connection cables you need. The rechargeable Lithium-Ion battery will provide up to 2.5 hours of filming time.

If you can swing a $300 purchase, the HD Motorsports Hero gives you 1080p HD shooting, plus the ability to film at 60 frames per second (fps) in 720p mode. That will give you slow-motion replay capability to embellish your story-telling prowess. This Motorsports Hero package also includes more camera-mount hardware, as well as built-in expansion ports for use with an LCD screen and enhanced batteries.

GoPro has spent much of the last two years improving sound quality, with a focus on eliminating wind noise. The cameras will pick up engine sounds but not the wind noise that plagued so many camcorder action video attempts. The company has also developed dozens of accessory mounting options, making it easy for you to secure the camera
to any helmet, motorcycle, ATV or side-by-side vehicle.

Best of all, you're not sacrificing film quality for the sake of features or unique mounting capabilities. The GoPro cameras deliver professional quality video and
still imagery.