Ben Spies Gets First Win Ever In Assen
Chaparral Motorsports
|
June 29, 2011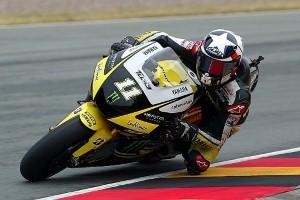 One of the reasons that many fans tune into racing are the magic moments. Undeniably, one of these happened over the weekend as American Ben Spies got his first official MotoGP win at Assen in the Netherlands.

Spies, racing in special livery for Yamaha's 50th anniversary, was able to take advantage of some early chaos and jump out to a lead that nobody was able to chase down. In doing so, he became the first American to win a MotoGP race in five years, dating all the way back to Nicky Hayden in 2006.

"It's special, because this track is a track I grew up watching all my heroes race on forever," Spies told the news source. "And with this weekend being the 50th anniversary for Yamaha, I don't know how it all came together."

Several bikes got tangled up at the beginning, including Spies' teammate, Jorge Lorenzo, going down after Marco Simoncelli made a somewhat reckless turn. That may have ultimately helped out Spies. Casey Stoner, the points leader, was able to gain on Spies throughout the race, but ultimately didn't pass him. Some thought this was because Stoner was being conservative - since Lorenzo was the Australian rider's biggest competition and he was already on the ground, Stoner had no reason to take chances.

Still, that takes nothing away from Spies, who now joins an elite group of American riders who were able to take home first place in a MotoGP race.