Chaparral Motorsports Launches Affiliate Program On Commission Junction
Chaparral Motorsports
|
June 27, 2011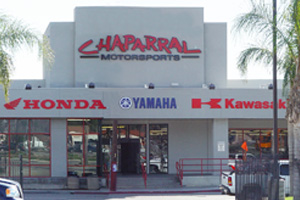 Make Money! Chaparral Motorsports pays 5-7% commission on sales referred by your site.

Chaparral Motorsports, one of the leading motorcycle vehicle and accessory dealerships, is proud to announce the official launch of their motorsports affiliate program through Commission Junction, a global leader in affiliate marketing. The Chaparral Motorsports program is a value-add partnership program to powersports websites and bloggers.

Chaparral Motorsports has an innovative and lucrative affiliate program for website owners and bloggers. Moto-journalists can earn money by adding links to Chaparral Motorsports' website to their blogs and websites. Anyone can join Commission Junction for free through CJ.com. By driving sales of motorcycle tires, motorcycle helmets, motorcycle parts and accessories, affiliate partners can earn up to 7% commission on each order placed on Chaparral Motorsports website through the Chaparral Motorsports affiliate program.

"Chaparral Motorsports is a proud partner with Commission Junction and aims to provide affiliates with competitive incentives for driving customers to ChaparralMotorsports.com," said Crystal Ashby, Vice President of Marketing. "A partnership with Chaparral Motorsports and Commission Junction raises customer and affiliate confidence. Both companies are trusted brands in their respective industries."

Why should website owners and motorcycle blog owners partner with Chaparral Motorsports? 5-7% commission can really add up. Chaparral Motorsports will provide you with all of the tools you will need as an affiliate partner. Recognized as a Top 100 Dealer by Dealernews for its annual success, Chaparral Motorsports is an industry leader in online motorcycle parts and accessories sales. Chaparral Motorsports has developed and continues to enhance its user-friendly, robust website. Chaparral Motorsports carries only top brands in the industry, and is a full line franchise dealer for Honda, Kawasaki, KTM, Polaris, Suzuki, Kymco, Yamaha, Can-Am, and Victory motorcycles and ATVs. We've been in the powersports industry for over 25 years and have grown to be one of the largest parts and accessory retailers in the powersports industry.

To sign up for the Chaparral Motorsports affiliate program, go to this link: https://signup.cj.com/member/brandedPublisherSignUp.do?air_refmerchantid=3341913

Existing Commission Junction publishers can sign up for the Chaparral Motorsports program directly through the Commission Junction member's area. Members should go to this link: https://members.cj.com/member/publisher/advertiserdirect.do?advertiserid=3341913

Chaparral is located at 555 South H Street, San Bernardino, California, near the 10 and 215 interchange. Call for directions at 909-889-2761. Chaparral Motorsports® is recognized as one of the largest motorcycle accessory and vehicle dealerships in the country. Chaparral Motorsports now encompasses a 160,000 square foot footprint. Started as a family motorcycle parts business, Chaparral Motorsports® has developed into a multi-line motorcycle and ATV dealer, offering Honda®, Yamaha®, Kawasaki®, KTM®, Suzuki®, Can-Am, Victory®, Polaris® and Kymco ATV's, motorcycles, and utility vehicles. Check www.ChaparralMotorsports.com for more news and information.