Tye Simmonds Out For Thunder Valley
Chaparral Motorsports
|
June 24, 2011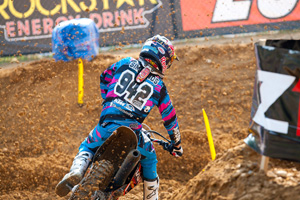 JDR/J-Star/KTM rider Tye Simmonds will miss the fifth round of the AMA Pro Motocross Championship Series this weekend in Lakewood, CO after being diagnosed with rhinosinusitis and bronchitis earlier this week.


This is Simmonds' second bout with bronchitis this year. He also suffered from the illness mid-way through the Supercross season. "I am taking this weekend off to rest and recover. I have also scheduled more intensive tests for next week that will hopefully determine why I have been so susceptible to contracting this illness," remarked Simmonds.


"We will wait to hear from the doctors and make our decision on when Tye should return to racing based upon those results. We definitely don't want to jeopardize his health by sending him to a race when he is not 100% physically," remarked JDR/J-Star/KTM Team Manager Nathan Ramsey.