Pedrosa Injury Leads To Rider Reshuffle
Chaparral Motorsports
|
June 23, 2011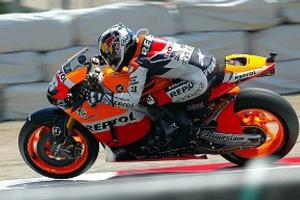 It appears that complications resulting from surgery on his collarbone will keep Dani Pedrosa out of yet another MotoGP race, all but ending his hopes of a championship.

The Spanish rider was involved in a controversial collision with rider Marco Simoncelli on May 15th. Although it was initially speculated he would be out no more than a month, doctors later had to readjust a piece of bone after he had surgery on the injured area. After this weekend's race, the rider will have missed more than 40 days of action.

The Repsol Honda factory team has elected to replace Pedrosa for the upcoming race in Assen this weekend. Japanese rider Hiroshi Aoyama, racing for San Carlo Honda Gresini alongside Simoncelli, will be come a temporary member of Repsol Honda and ride on the factory bike for the race, according to Cycle News.

To fill the hole left by Aoyama's absence on the San Carlo team, Honda will be using another Japanese rider, Kousuke Akiyosh, who is currently a test rider for Honda.

Aoyama has been in MotoGP for seven years, although not always in the top class. After winning the 250cc World Championship in 2009, the Japanese rider stepped up to the upper class, where he finished 15th overall in his rookie season.