Young And Hayes Pull Out In Front Of AMA Superbike
Chaparral Motorsports
|
June 21, 2011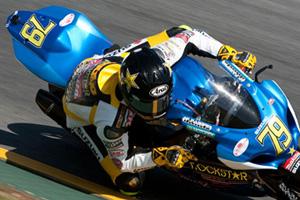 After five rounds, the 2011 AMA Superbike Championship is a two-horse (or two-bike), four-race affair.

With this weekend's results at Barber Motorsports Park taken into account, it's highly unlikely that anybody will be able to catch either Blake Young or Josh Hayes over the final four races - but which of these two riders will end up with the trophy is anyone's guess.

Young was the better rider on the weekend, beating Hayes by .765 of a second in order to take the win and the overall lead in the points standings, 235-233. Tommy Hayden, in third overall, is unlikely to mount a serious challenge to either competitor after his engine caught fire during the weekend. He currently sits 50 points behind Hayes at 183 overall.

Hayden was in the lead during the early parts of the race, which was run in 96-degree heat. Yet his engine trouble caused him to drop out, allowing Young to take the lead. Hayes was right on his tail, however, and took over control of the race on the tenth lap. However, Hayes was unable to keep the lead, as Young passed him back on lap 16 and held it to the end.