Yamaha Prepare To Celebrate 50th Anniversary Of Grand Prix Racing At Assen
Chaparral Motorsports
|
June 21, 2011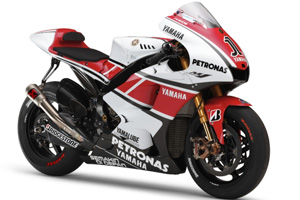 The historic circuit of Assen welcomes MotoGP back this week for what is a very special occasion for Yamaha. The 2011 Assen TT will witness a full livery change by Yamaha Factory Racing as part of ongoing activities to celebrate the iconic Japanese manufacturer's 50th year of Grand Prix racing. The beautiful red and white colour scheme will be launched to the media on Wednesday close to the Assen circuit, signaling the start of the Yamaha Expo which will run the full TT week. 


Jorge Lorenzo and Ben Spies will be looking to put the previous race at Silverstone behind them and focus on delivering strong results at Assen, a track favoured by both. Lorenzo has won on the Dutch circuit in all three GP classes; team mate Spies took pole and a race win in 2009 in World Superbike and finished fourth last year in his rookie GP visit. 


The Assen circuit, sometimes referred to as the 'cathedral' by race fans due to its status and historical significance in racing, is the only circuit to have been part of the Grand Prix World Championship calendar since its inception. The circuit, which celebrated the 80th Anniversary of TT racing last year, has undergone many changes over that time. Initially run on public roads it has evolved into one of the most physically demanding and technical tracks in Grand Prix with high speed chicanes and varied camber changes.

Jorge Lorenzo

"Assen is my favourite track where I've won in all categories and also last season. This year it is very special coming here because we celebrate the 50th Anniversary! Now we are in second position in the championship, we come here looking to put pressure on the leader. I need to do the same job as I've done before with maximum effort. The team is focused and I wish to come back to finish at least on the podium."

Ben Spies

"I've really been looking forward to coming to Assen again. It's a track I love and the Yamaha M1 seems to really work well here. It's a fast track which I really enjoy, I have so many memories of watching the racing on TV here as a kid, it's a privilege to race here now. I'm still pretty sore from Silverstone's crash but I'm not going to let it stop me giving 100% as always and going for the best results possible. It's also going to be really cool to go out on the track in the special livery in front of all the fans."

Wilco Zeelenberg
Yamaha Factory Racing Team Manager

"We've been looking forward to Assen because of our special livery, I love the bike in white and red. We are currently second in the championship which is not such a bad position; we will see if we can put some heat on the feet of Casey. We made a mistake at Silverstone and now with 18 points deficit it's a different situation for Jorge compared to most of last season and this year where he's always been in front. When you lead you can't be better than that so we need to be on top of everything and I believe he is able to fight with Casey for victory. We were only two tenths behind the front in qualifying at Silverstone so we have proved that our package is getting better and better and closer to the front."

Massimo Meregalli
Yamaha Factory Racing Team Director

"This is the first of our 50th anniversary race celebrations, I am proud to be part of this unique event and to be a part of Yamaha at this time. The team has worked really hard to prepare for this, we hope racing fans will be delighted with the special livery on not only the bikes but also our uniforms and pit garage. The Assen circuit should be good for us this weekend; our bike should be competitive thanks to the layout and characteristics of the track, it is also one of Ben's best circuits to ride on. In dry conditions at Silverstone it was clear that the direction we are taking in development is working and we are confident here we can continue this improvement. I'm impatient for Thursday morning to get started."

Jorge Lorenzo

Age: 24

Lives: Barcelona, Spain

Bike: Yamaha

GP victories: 36 (16 x MotoGP, 17 x 250cc, 4 x 125cc)

First GP victory: Brazil, 2003 (125cc)

First GP: Jerez, Spain, 2002 (125cc)

GP starts: 152 (57 x MotoGP, 48 x 250cc, 46 x 125cc)

Pole positions: 43 (16 x MotoGP, 23 x 250cc, 3 x 125cc)

World Championships: 3 (MotoGP 2010, 250cc, 2006/7)

Ben Spies

Age: 26

Lives: Longview Texas / Lake Como Italy

Bike: Yamaha

GP victories:

First GP victory:

First GP: Donington, UK, 2008 (MotoGP)

GP starts: 27

Pole positions: 1

World Championships: 1 (WSB 2009)

Grand Prix Results: Assen 2010

1. J.Lorenzo Yamaha 41'18.629

2. D.Pedrosa Honda +2.935

3. C.Stoner Ducati +7.022

4. Ben Spies Yamaha Tech 3 +13.265

Assen Record Lap

D.Pedrosa (Honda) 2010, 1'34.525

Assen Best Lap

J.Lorenzo (Yamaha) 2010, 1'34.515

Historic Assen awaits Edwards and Crutchlow

The Monster Yamaha Tech 3 Team resumes the busiest period of the 2011 MotoGP World Championship calendar with a visit to the world famous Assen circuit in Holland this week. 


The circuit is steeped in history and is the only venue to have hosted a World Championship round in every year since its inception in 1949, with the race also unique as it is traditionally staged on a Saturday.

American Colin Edwards heads to one of his favourite tracks with confidence sky high after he overcame atrocious conditions and a painful rib injury to claim a stunning rostrum at Silverstone's British Grand Prix earlier this month.

The 37-year-old's achievement was made even m ore remarkable considering it was only nine days after he broke his right collarbone in a practice crash for the Catalunya round. Edwards has been able to rest and recuperate at home in Texas, gaining vital strength in his upper body as he prepares for another physically demanding weekend. He expects to be in much better physical shape than Silverstone, but is still not 100 per cent recovered because of muscle damage around his right ribs. 


Cal Crutchlow has worked tirelessly to get himself fit for action this weekend, the British rider showing outstanding courage and determination to be back with his Monster Yamaha Tech 3 crew less than two weeks after he broke his left collarbone in a heavy qualifying fall for his home race at Silverstone. 


Since leaving the Royal Derby Hospital last Wednesday having undergone successful surgery to pin and plate the collarbone that was broken in five places, the 25-year-old has worked round the clock to get his shoulder healed quicker. Crutchlow will start practice on Thursday and he's determined to race in round seven of the 2011 MotoGP World Championship.

Colin Edwards

"I am really looking forward to Assen because I love the track. It is not the old Assen of a few years back, but there are still plenty of sections of the track that are awesome on a MotoGP bike. It's fair to say I've got some history at Assen. I got a podium in 2005 and 2008, but don't remind me what happened in 2006. I couldn't be more confident going to Assen though than I am now. The Silverstone result was fantastic for the whole Monster Yamaha Tech 3 Team. It gave everybody a boost and it was great coming so quickly after my collarbone injury. I've had a lot of time relaxing and resting up with my family at home and the shoulder has onl y got stronger. It was like brand new in Silverstone, so I'm not worried about that at all. My right side is still hurting because I separated the muscles from my ribs, so I'm expecting a bit of discomfort from that. The rib injury has improved but I still don't think I'll have my maximum strength. I'll be looking for another strong result in Assen to build on the momentum gained from Silverstone."

Cal Crutchlow

"Assen is another track that I know from my time in World Superbikes, but I will have to see how my shoulder is doing on the bike and go from there. It is Yamaha's 50th anniversary and I will do my best to be there and support them."