The Ride-Up Solution: Kendon's Ride-Up Single SRL Motorcycle Trailer Offers The Best Of Both Worlds!
Chaparral Motorsports
|
June 20, 2011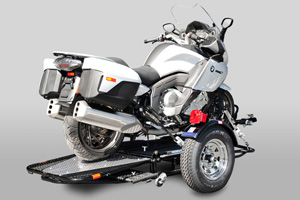 Kendon Industries, Inc., the originator of Stand-Up™ motorcycle trailers and innovative motorcycle lifts, expands its trailer offerings with a new ride-up single rail trailer. Billed as an easy loading solution for everything from lightweight sport bikes to heavyweight touring bikes, the new "Ride-Up Single SRL" trailer combines versatility and convenience with durability and practicality.

The new Ride-Up Single trailer incorporates Kendon's new SRL technology. Exactly what is SRL? The acronym is short for "Suspension Reactive Loading," or more simply put, it eliminates the apex created by a traditional ramp angle and the bed of the trailer when loading and unloading. The independent torsion suspension on the Kendon trailer works with the loading ramp to eliminate the apex and creates a smooth parallel surface for loading and unloading. This means that there is a much lower angle when loading/unloading a bike and virtually no point to hit the frame of the bike. The suspension compresses and lowers the bed of the trailer while loading a motorcycle and raises it back up to towing height after the bike is fully loaded onto the trailer.

Features and benefits of the new Ride-Up Single Trailer with SRL technology include:






Single Person Ride-Up Loading

The 2-Degree lower rear section provides a lower ramp angle that allows for easier loading

Lock down 3-piece loading ramp featuring integrated footboards

Expanded metal ramp surface improves traction and increases loading stability

Ramp sections are lightweight and small enough to store in the trunk of a compact car or bolted into place on the trailer itself

Full 1,000 lb. capacity

Made in USA

Lightweight, can easily be stood up for vertical storage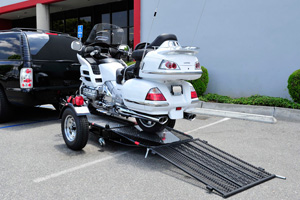 In addition to the new Ride-Up Single Motorcycle Trailer with SRL, Kendon's popular standard single rail trailer will remain in the product line. Kendon is even offering a retrofit kit to upgrade its older single rail motorcycle trailers to the Ride-Up Single SRL technology.

Kendon's Ride-Up Single Motorcycle Trailer with SRL is "The Simple, Lightweight, Stand-Up™, Ride-Up Solution." The Ride-Up Single SRL is available now from Kendon dealers nationwide for $2,599.95 and is distributed by Tucker Rocky/Bikers Choice and Custom Chrome in the USA. More information about any of the Kendon Stand-Up™ trailers or lifts can be found at www.KendonUSA.com or by calling 714-630-7144.