Darryl Atkins Joins JT Racing USA
Chaparral Motorsports
|
June 20, 2011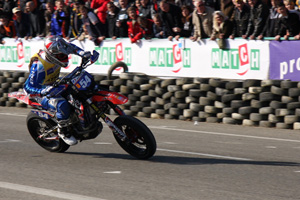 JT Racing USA is pleased to announce the addition of former World Motocross and AMA Supermoto racer Darryl Atkins to its sales team. Atkins, a seven-time New Zealand motocross champion, multi time AMA Supermoto event winner and ESPN X Games competitor, will fill the Global Sales Manager position at JT Racing and report directly to VP of Sales, Daniel Sandstedt.


New Zealand motocross champion and accomplished supermoto racer Darryl Atkins joins JT Racing USA.


"I'm very excited to be on the JT Racing team," says Atkins. "I was immediately enthused when I learned of JT's return, however, what really sold me on this position is all of what JT has in store for the future. I'm well aware of JT Racing's preeminent standing within the industry back in the 70's and 80's, and I'm proud to be playing an intricate role in the brand's resurrection."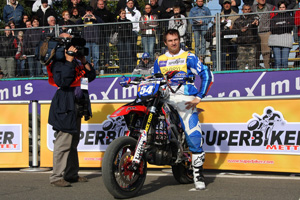 Atkins was one of the very first riders from "down under" to achieve big-time motocross success on the world stage, but he had his promising career derailed by a near-fatal car accident in 1994. After sustaining severe trauma to his right arm, Atkins' doctors decided to amputate, but changed their minds just in the nick of time. They opted to try out an experimental surgical method involving a nerve transplant, and though the surgery was successful, doctors told Atkins he'd never be able to lift more than three or four pounds with his right arm. Against all odds, Atkins fervently rehabbed his arm, and two years later miraculously earned World Motocross Championship points.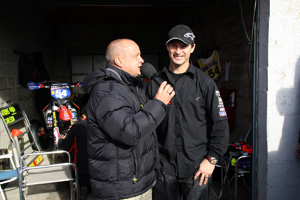 After discovering Supermoto competition in 2004, Atkins went on to top-level racing success there, finishing second in the 2005 AMA Supermoto Unlimited championship, and garnering a sixth-place at the 2006 ESPN X-Games. Soon after, Atkins was elevated to the role of team manager for Aprilia's Supermoto factory team from 2006 through 2008. He concluded his final year of Supermoto racing with a total of six race wins, and lost the overall 2008 championship by a single controversial point. Now retired from racing, Atkins works for a select handful of companies, including Asterisk and M2R helmets.


"We're absolutely thrilled to have Darryl on the JT Racing team," says Sandstedt, "even as he continues to work with such esteemed companies as Asterisk and M2R, who were very generous to allow him to work with us. Darryl's knowledge of the industry and his impeccable relationships within it will help us immeasurably, and we're glad to have him aboard."