2011 AMA Pro Motocross Budds Creek Results
Chaparral Motorsports
|
June 20, 2011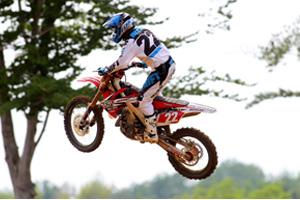 Regal Reed Races to Budds Creek Win
Australian rider Chad Reed - sorry, Sir Chad Reed - won the fourth round of the Lucas Oil AMA Motocross series this weekend at Budds Creek, giving him his third victory of the season so far.

Fresh off of his induction into Order of Australia - the land down under's version of Britain's knighting ceremony - the Honda rider turned in a truly regal performance on the track, placing third in the first moto followed up by a win in Sunday's race to grab top honors for the weekend.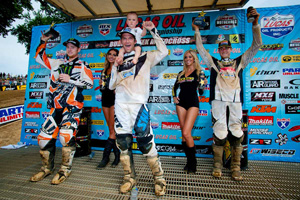 Reed's performance was mirrored by Ryan Villopoto, who won the first moto on Saturday and placed third on Sunday. Since the second moto is weighted slightly more heavily in determining overall standings, Villopoto had to settle for second overall. Ryan Dungey came in second in both races, ultimately getting on the podium in third overall.

Since the two riders earned the same number of points, not much changed in the standings. Reed still leads Villopoto by 15 points, 183 to 168 points. Dungey is still in the championship picture as well, although he is further back at 155 points.

"I decided to conserve my energy a bit and really give everything in that second moto and it paid off," Reed said of his win. "The track was really tricky and picking lines was important. If you went with a wrong line it could cost you a lot of time. I'm happy with how the season is playing out so far. Obviously we have a long way to go, but I really couldn't ask for a much better start to the first four rounds."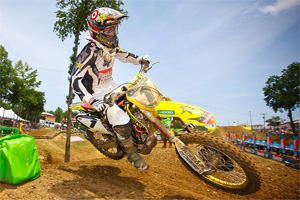 Dungey and Suzuki on Budds Creek Podium

Team Rockstar Makita Suzuki riders showed their strength, consistency and the power of their Yoshimura-equipped Suzuki RM-Z450s during the fifth round of the 2011 AMA Pro Motocross Championships at the Budds Creek National in Mechanicsville on Saturday.


Ryan Dungey rode strong and consistent, claiming second place in both motos and ending the day with a third-place overall while team mate Brett Metcalfe worked through the pack in both motos to grab a couple of sixths and scored a sixth-placed overall finish for the day.


Dungey started the day showing off the speed of his Suzuki by posting the fastest time in the morning timed practices by more than a second. The Rockstar Makita Suzuki rider had a great start in moto one that put him into the front group. He powered his RM-Z from fourth to second over the first few laps and then the reigning Champion put his head down and chased after the leader. Dungey was able to catch up in the closing laps but was unable to make the pass.


Moto two went about the same for the Suzuki rider with a good start that slotted him quickly into second. Dungey pushed his RM-Z450 hard for the remaining 12 laps but fell just a little short of passing for the lead and came away with a second-placed moto finish and third overall for the day. Dungey sits third in the Championship points race.


"It was another good, solid weekend," said Dungey. "We got off to really good starts on my RM-Z today and I was able to get second in both motos. I lost some time in the beginning of the first moto, but I was able to make that up and get up there and almost get the win. I got another good start in the second moto and got up into second and battled for the number one position for the rest of the moto but just couldn't make the pass. It was tough. The track was really one-lined. Overall, my Rockstar Makita Suzuki felt great and we were solid throughout the day. We just gotta keep moving forward and plugging away. We've got Lakewood coming up and I'm really looking forward to it. Last year we were able to get a win there in the AMA Pro MX Championship race as well as the MX Des Nations. It's always a great track."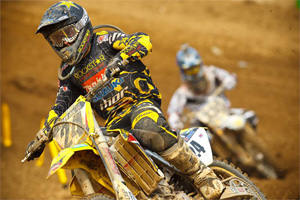 Metcalfe started the day with the fourth fastest time in the morning practices, which was his best qualifying effort of the season. The Rockstar Makita Suzuki rider suffered a bad start in the first moto but was able to work his RM-Z through the field to capture a sixth-placed finish. In moto two, he had another tough start but was able to quickly get into sixth, which is where he finished, giving him a sixth overall for the day. Metcalfe sits solidly in fifth in the Championship points.


"It was a pretty positive day for me," said Metcalfe. "I went six-six for sixth overall and there were some positives and negatives, but overall I felt pretty good. The negative side of the day was bad starts in both motos. I really felt if I could have had better starts and I could have been running up front and at least challenging for a podium. I had my best qualifying result of the year today with a fourth. My Rockstar Makita Suzuki is working great and the team has been doing a great job getting me more comfortable out there. I think that's why I was able to qualify faster. I'm happy and feel that was my best riding of the season. We need to go home and work this week on starts and give myself a chance to run up front. I'm looking forward to Lakewood. It's a track I've done well at in the past. And I think it is a track that suits me. I'm hoping to go there and put my Suzuki up on the podium where I know it can be."


The Rockstar Makita Suzuki team's next event is the fifth round of the 2011 AMA Pro Motocross Championship on June 25th at the Thunder Valley National in Lakewood.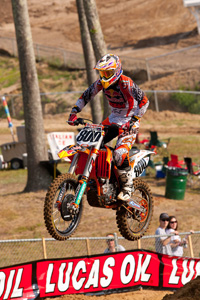 Alessi Earns 5th at Budds Creek Motocross

Red Bull/KTM Factory rider Mike Alessi earned 5th overall after scoring two back to back 5th place finishes at the fourth round of the AMA Pro Motocross Championship Series held at Budds Creek MX Park in Mechanicsville, MD.


Alessi earned his trademark start as he pulled the holeshot at the beginning of the first moto. He led for the first four laps before he was passed by Ryan Villopoto. Alessi rode a solid pace for the first moto to finish 5th overall at the end of the 30 minute plus two lap race. "I am still struggling with my endurance since returning from my Hangtown crash," remarked Alessi. "I am making progress each time I ride but I definitely still need more time on the bike to get up to consistent podium speed."


Alessi repeated his great start in the second moto. This time he missed the holeshot but moved into the lead by the second corner and led for the first two laps. He hung on for 5th a second time to earn 5th overall for the day.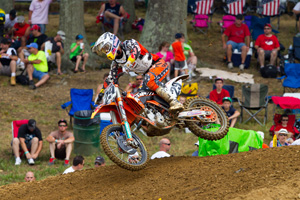 On the 350 SX-F was Alessi's teammate, Andrew Short, who matched his best overall finish of the season with a 9th place result. Short was running in 6th in the first moto before a crash set him back to 13th. He charged forward and climbed back into the top ten to finish 9th that moto just a bike length behind the 8th place bike of Josh Grant. In the second moto he got a decent start and put his bike in the top ten early and moved up to 8th near the moto end.


The most impressive story of the day was FMF/KTM rider Mike Brown. The former 125cc National Motocross Champion showed up at Budds Creek to earn a few more points toward keeping his national number. Mission accomplished. Brown went 12-13 for the day to add 17 points to his championship point's total which put him over the 25 point minimum a former champion must earn to retain their number. That means Brown fans everywhere will get to see him carry the #3 plate for another season.


Next Event: Thunder Valley - Lakewood, CO - June 25, 2011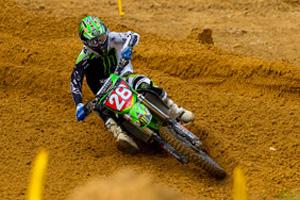 Rattray Grabs Overall Lead With First Win

A disappointing performance from Blake Baggett and a strong showing from Tyla Rattray allowed for a shakeup in the AMA Motocross 250cc class after a wild weekend at Budds Creek.

Rattray and his Monster Energy teammate Dean Wilson have both been near the top of the class for the season to this point, though Baggett's win last weekend put him in contention as well. When the dust settled at the end of the two motos, however, it was Rattray who had grabbed the lead.

Wilson struck first, winning the first race of the weekend in dominant fashion. However, Rattray was right behind him, claiming second place. For Sunday's race, the order switched - Rattray took first, while Wilson had to settle for third after being passed by Justin Barcia.

Rattray said he knew Wilson would be his toughest competition, but was glad he was able to get his first overall win of the season. The victory put him in front of Wilson by four points in the overall standings.

"I think it's important in a championship to be up front," said Rattray. "It's important to be on podium as much as you can, and that's what I've done so far. I just want to get big points at each round and stay consistent. Having such strong competitors makes you dig deeper, and I just want it really bad."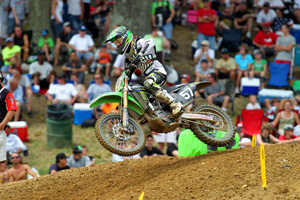 Baggett, meanwhile, suffered a poor start in the first race and an early crash in the second, finishing in seventh for both races and slipping out of contention with Wilson and Rattray.


Budds Creek 450 Class Overall Results:

1. Chad Reed (3,1)

2. Ryan Villopoto (1,3)

3. Ryan Dungey (2,2)

4. Kevin Windham (4,4)

5. Mike Alessi (5,5)

6. Brett Metcalfe (6,6)

7. David Millsaps (7,9)

8. Jake Weimer (10,7)

9. Andrew Short (9,8)

10. Josh Grant (8,10)

11. Ricky Dietrich (11,11)

12. Christian Craig (13,12)

13. Mike Brown (12,13)

14. Ben LaMay (17,15)

15. Les Smith (16,16)

16. Nick Wey (15,19)

17. Fredrik Noren (21,14)

18. Lowell Spangler (18,17)

19. Michael Byrne (14,23)

20. Travis Sewell (20,18)

2011 Motocross 450 Class Standings:

1. Chad Reed 183

2. Ryan Villopoto 168

3. Ryan Dungey 155

4. David Millsaps 130

5. Brett Metcalfe 118

6. Kevin Windham 112

7. Jake Weimer 93

8. Ricky Dietrich 92

9. Christian Craig 76

10. Andrew Short 75