2011 AMA Pro Motocross Mt. Morris Results
Chaparral Motorsports
|
June 14, 2011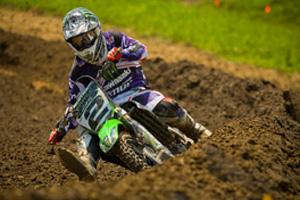 Villopoto gets first win of the season at High Point
Ryan Villopoto was able to get his first win of the season and close the gap a bit on Chad Reed during an exciting weekend of AMA Motocross action in the 450 class at High Point in Pennsylvania.

Villopoto recently won the AMA Supercross championship, so he's always a threat whenever he's on the track. Things seemed to come together for the rider this weekend, as he won the first race in convincing fashion before taking second in the next race for a first-place overall finish.

Points leader Reed fell to fifth in the first race after a rock struck his collarbone and caused him some pain. Reed came back to beat Villopoto during Sunday's very muddy race, but it was only enough to get him third overall, as Ryan Dungey went 2-3 to take second.

That means Villopoto was able to gain six points on Reed in the overall standings, although he is still 15 points out of first place.

"Everything fell into place for me in the first moto," Villopoto said. "Having that week off was good for me and I feel a lot better. That second moto was so difficult; you really couldn't ride like you normally do. I was cautious in the early laps and waited for the track to work in a little bit and it did."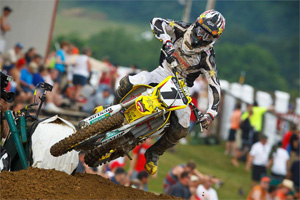 Dungey 2nd at Mount Morris MX

Team Rockstar Makita Suzuki used the power of its Yoshimura-equipped Suzuki RM-Z450s to tackle challenging conditions at the Rockstar Energy High Point National in Mt. Morris on Saturday.


The weather was fine for the first moto at the notoriously-fast High Point track but a quick downpour hit just before the start of moto two, leaving the track extremely muddy and slippery. Ryan Dungey rode strong, grabbing a convincing second in the first moto, battling the tough conditions for a third in moto two and ending the day with a second overall. Team mate Brett Metcalfe suffered a couple of bad starts but was able to fight his way to an eighth-place overall finish.


Dungey was strong all day, with solid morning practices and great starts in both motos. The Rockstar Makita Suzuki rider pulled the holeshot in moto one but a little bobble put him back to second. Dungey proceeded to pilot his RM-Z flawlessly for the next 16 laps and cross the line for a convincing second-placed finish. In moto two, Dungey powered his Suzuki out of the gate again in second; however, a couple of miscues in the slick conditions put him on the ground and he fell back to sixth. Dungey pushed his RM-Z450 hard for the remaining 12 laps and was able to come away with a third-placed moto finish and second overall for the day. Dungey has moved into third place in the Championship points race.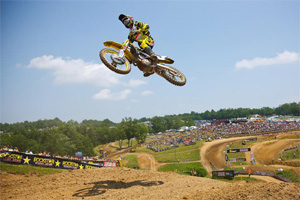 "It was a good weekend," said Dungey. "I had a couple good practices and we were good going into the two motos. I got the holeshot in the first but had a little bobble and got passed but was able to get back to second. I lost some time in those first few laps. All in all, I felt good. My Rockstar Makita Suzuki team made some changes on my RM-Z for the second moto, but it rained really hard just before the start, so the track was really muddy, slick, and very technical. I got off to another good start but fell twice in the beginning but was able to catch up for a third and a second place overall. It's a good step in the right direction. We just gotta keep plugging away and improving in the areas that we can and be consistent and put ourselves in a good spot to be there in the end. Next stop is Budds Creek and I really like that track. I was able to come away with the overall last year there and I'm looking forward to another good result."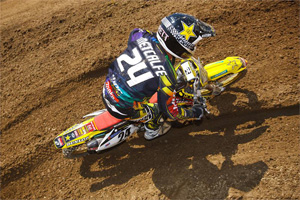 Team mate Brett Metcalfe started the day with the sixth fastest time in the morning practices aboard his Suzuki RM-Z450. The Rockstar Makita Suzuki rider suffered from a bad start in moto one but worked his way to 12th at the end of the first lap. Metcalfe was able to fight through the field to capture an eighth-placed finish. In moto two, Metcalfe was caught up in a first turn pile-up and essentially started from the back on the field. He charged as hard as conditions would allow in order to work his way up for a 10th-placed finish and an eighth-placed overall for the day. Metcalfe sits fifth in championship points.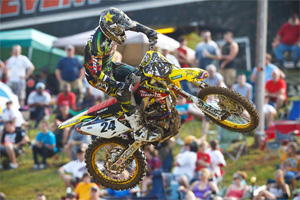 "It was a pretty tough day for me at Mt. Morris," said Metcalfe. "I didn't get the results I wanted and I had two bad starts at a track where it's really important to get a top five start in order to be in contention for a decent overall finish. It was just one of those days where things just didn't happen. I feel like I rode strong and my Rockstar Makita Suzuki worked great and my team did a great job getting my bike dialled in. It was a rough day, but we still came away with some points. We know what we have to do moving into Budds Creek. I'm looking forward to Budds - It's a good circuit and I really like it there. I'm looking forward to going there and redeeming myself with some better results."


The Rockstar Makita Suzuki team's next event is the fourth round of the 2011 AMA Pro Motocross Championship on Saturday, June 18th at the Budds Creek National in Mechanicsville, MD.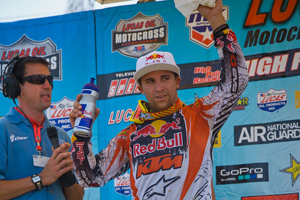 Alessi Earns 4th Overall at High Point Motocross

Red Bull/KTM Factory rider Mike Alessi earned 4th overall in his first race this season at the third round of the AMA Pro Motocross Championship Series held at High Point Raceway in Mt. Morris, PA.


Alessi got off to too good of a start in the first moto when his bike jumped over the gate at the start of the moto. He was able to round the first corner in 3rd place and finished the race in the same position in a notable return to the series after sitting out the past three weeks from an injury suffered in practice at round one.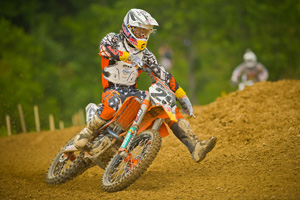 Although Alessi crossed the line in 3rd place he was docked one position for jumping the gate. That put him in 4th place for the first moto. His teammate, Andrew Short, started inside the top ten in moto one and crossed the checkered flag in 11th place.


In typical fashion, Alessi earned another great start in the second moto this time taking the holeshot and the early lead. The second moto was remarkably different from the first moto as heavy rain fall during the intermission had made the course very sloppy and slick. Alessi pulled away from the pack early in the moto to pull a 15 second lead by the fifth lap. Unfortunately, late on lap five, Alessi suffered a crash. He lost over 20 seconds while recovering from the mistake and lost the lead to Chad Reed.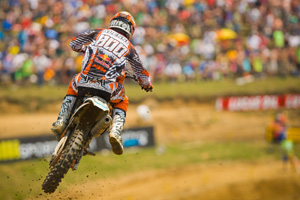 Alessi struggled with arm pump after his crash and managed to cross the finish in 4th at the end of the moto. His 4-4 results earned him 4th overall for the day. Short came from a poor second moto start to finish 13th. His 11-13 scores put him in 12th overall for the day.

"I am happy with my results today. Of course, I would have liked to finish in the top three but I am just glad to be back to racing and doing what I love. I want to thank all the doctors that have helped get me back in racing shape over the past few weeks. I hope to be on the podium at the next round," remarked Alessi.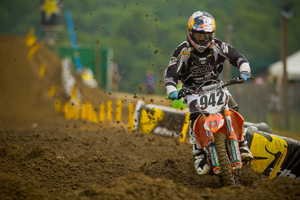 JDR/J-Star/KTM Race Report - High Point Motocross

JDR/J-Star/KTM rider Tye Simmonds finished 19th overall for the day at the third round of the AMA Pro Motocross Championship Series held at High Point Raceway in Mt. Morris, PA.


Simmonds qualified 26th into the main event and as a result did not get a great gate pick. He got pushed wide off the start and rounded the first corner of moto one in 30th position. He rode a steady pace and was able to pass into the top twenty by the moto end to finish 19th.


In the second moto he had a better start and came around the first lap mid-pack. Within the first few laps he had passed into 16th and was riding well before he crashed in the slick mud coming down the roller section.


"The course was so muddy from the rain in the second moto that when I tried to double some of the rollers my front end just stuck on the landing and pitched me over the bike," remarked Simmonds. He recovered around 30th position, and once again, found himself fighting through the pack. At the moto end he was able to climb up to 18th. His 19-18 moto scores earned him 19th overall for the day.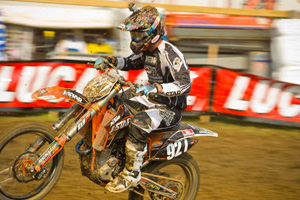 Simmonds Lites teammate, PJ Larsen, was set to make High Point his first return to racing since a wrist injury suffered during the Supercross season. He got a great start in the first moto rounding the first turn in 5th place. He remained inside the top ten for the first few laps before he began to fade as his wrist began to give him pain. Around the halfway mark he had to pull off as his wrist proved too weak to hold on for the moto.


"At this time we think it is best if PJ takes a few more weeks off and makes sure he is 100% ready before making a return," commented JDR/J-Star/KTM Team Manager Nathan Ramsey. "This race was too soon from his injury and it showed. We will continue to work on healing his wrist and getting his endurance back over the next few weeks."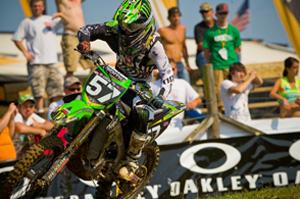 Baggett Wins 250cc Races

Blake Baggett put in an impressive performance onboard his Kawasaki in the 250cc class this past weekend, winning both races en route to a perfect 1-1 finish.

The Kawasaki rider was able to win the first moto after a late charge took the win from points leader Dean Wilson, also on a Kawasaki but racing for a different team. Everything changed for the second moto of the weekend, however, as it was unusually muddy.

Baggett was able to jump into the lead early on in the race, but soon crashed hard. That allowed Baggett's teammate, Tyla Rattray, to get past his friend and take the lead. Baggett hopped back on the bike and wasted no time in reclaiming his lead - a feat he eventually accomplished.

"In the first moto I had my work cut out for me," said Baggett. "I waited until halfway and put on a late charge. In the second moto, it was muddy, and I had a brain fade and just went down. After that, I just went for it. I didn't know what Tyla (Rattray) had done in the first moto, so I just knew that a 1-1 would win."

Wilson crashed in the second race, so he had to settle for eight and an overall finish of fourth place. Rattray placed second on the weekend, while Eli Tomac was able to take third.

Mt. Morris 450 Class Overall Results:

1. Ryan Villopoto

2. Ryan Dungey

3. Chad Reed

4. Mike Alessi

5. David Millsaps

6. Kevin Windham

7. Tommy Hahn

8. Brett Metcalfe

9. Jake Weimer

10. Nick Wey

Mt. Morris 250 Class Overall Results:

1. Blake Baggett

2. Tyla Rattray

3. Eli Tomac

4. Dean Wilson

5. Broc Tickle

6. Justin Barcia

7. Cole Seely

8. Kyle Cunningham

9. Darryn Durham

10. Alex Martin

2011 Motocross 450 Class Point Standings:

1. Chad Reed 138

2. Ryan Villopoto 123

3. Ryan Dungey 111

4. David Millsaps 104

5. Brett Metcalfe 88

6. Kevin Windham 76

7. Ricky Dietrich 72

8. Jake Weimer 68

9. Tommy Hahn 65

10. Christian Craig 59

2011 Motocross 250 Class Point Standings:

1. Tyla Rattray 127

2. Dean Wilson 125

3. Blake Baggett 116

4. Eli Tomac 104

5. Kyle Cunningham 90

6. Justin Barcia 79

7. Cole Seely 68

8. Broc Tickle 67

9. Gareth Swanepoel 61

10. Martin Davalos 53