No Joy For Lorenzo And Spies In Silverstone
Chaparral Motorsports
|
June 13, 2011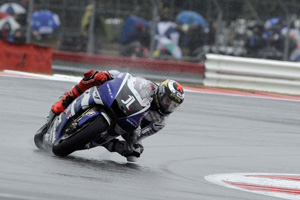 The Grand Prix of Great Britain at the Silverstone circuit came to a premature end today for both Yamaha Factory riders in a race played out under treacherous weather conditions. World Champion Jorge Lorenzo and team mate Ben Spies spent the weekend building a good race set up, qualifying strongly in the dry yesterday to start third and fourth on the grid respectively. Lorenzo started well, taking first position from the line but conceding quickly to Casey Stoner. As heavy rain drenched the Silverstone circuit, the Mallorcan began to close the gap to the front when a high side crash just after entering a corner too fast saw his M1 too damaged to continue. 


Spies also fell victim to the adverse track conditions. Having dropped initially to fifth he fell going into turn one, crossing the gravel and hitting the wall. The American rider was taken directly to the medical centre for precautionary scans of his back and neck and was thankfully given the all clear after the check up.

Jorge Lorenzo
Position DNF

"I feel disappointed because the crash was my own mistake. It's a shame for the team because they did a very good job all weekend and also my Fan Club who come here to support me. I was riding with confidence, but I had to wait my moment to overtake Andrea. I think I could have fought for the victory with Casey. I wasn't worried that Simoncelli was catching me; I was worried because Casey was going if I didn't overtake Andrea... then I crashed! Before Casey was chasing me, like a greyhound with a hare but now the situation has reversed. Now we have to go for the victory in Assen! I want to say congratulations to Colin; it has been a good weekend for him. He deserves it after last week".

Ben Spies
Position DNF

"I'm so disappointed to finish like this after we worked so hard to be ready for the race. It's been a challenging weekend for all the guys with the different weather changes but we were ready to race with a really good package. The track was really wet, when I hit the brakes going into turn one the front just dropped away and I hit the wall before I knew it. I hit my back pretty badly, my back protector is really busted up, but it did its job. I'm really sore and will probably need a big cushion for a few days but I'm happy it wasn't worse. We'll take a few days to relax and recover then come back fighting at Assen."

Wilco Zeelenberg
Yamaha Factory Racing Team Manager

"Conditions today were very difficult, Jorge had not much grip in the rear for the first three laps. After five or six laps it improved a little bit so he got up close to Dovizioso to try and make an overtake. Unfortunately he lost the rear and went over the handlebars, ending his race. It's not the best result, my first DNF with the team and Jorge's first for 25 races. We were leading the Championship, we're now 18 points behind but everything is still open. There are 12 races still to go so let's go to Assen and see what we can do."

Massimo Meregalli
Yamaha Factory Racing Team Director

This was not the results we were expecting today. Both Ben and Jorge and their crews have worked extremely hard all weekend to find both wet and dry competitive set ups, resulting in a good qualifying and giving us confidence for the race. Unfortunately the difficult racing conditions led to both riders falling and being unable to continue. Jorge was able to return directly to his garage uninjured however due to the severity of Ben's crash he was first taken to the medical centre for essential checks to his back and neck. Finally he has been given the all clear so despite the two DNFs we are relieved to be able to leave Silverstone with both Jorge and Ben uninjured. We will put this weekend behind us and head to Assen in two weeks time determined to continue our form from Barcelona."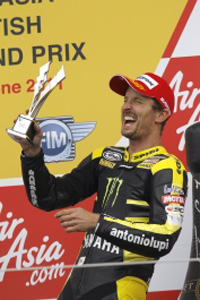 Heroic Edwards claims podium in Silverstone Monsoon

Monster Yamaha Tech 3 Team rider Colin Edwards produced a heroic performance at a rain-lashed Silverstone circuit this afternoon, the experienced American mastering atrocious conditions during the Airasia British Grand Prix to finish in a deserved third position. 


Just nine days after breaking his right collarbone in seven places at the Catalunya round, Edwards showed outstanding skill and bravery today to claim his first MotoGP rostrum since he was second in the 2009 British Grand Prix at Donington Park. 


With large patches of standing water littering the circuit and heavy rain falling throughout, Edwards quickly got to grips with the treacherous conditions and he needed only five laps to pass compatriot Ben Spies to move into fifth. Edwards maintained a fast and consistent pace, and while other riders were being caught out by the tricky conditions, the 37-year-old called on his vast experience to keep his composure and concentration to secure his 12th MotoGP podium. 


British rider Cal Crutchlow spent a comfortable night in the John Radcliffe Hospital in Oxford after he suffered a broken left collarbone in a high-speed crash at the start of yesterday's qualifying session. 


Crutchlow's collarbone, which is broken in three places, will require surgery, but no decision has been taken on whether he will remain in Oxford or be transferred to Manchester to see a specialist who has treated the 25-year-old for a previous shoulder injury. Crutchlow is also being assessed for a neck injury and further information on his condition and recovery will be made available at the earliest opportunity.

Colin Edwards
Position 3rd, Time +21.480

"That was an unbelievable race and to finish on the podium feels amazing. I was happy to qualify eighth but never in a million years did I think I'd be on the podium just over a week after breaking my collarbone. I need to thank Dr Xavier Mir for the repair job he did on my shoulder and also my guys at Monster Yamaha Tech 3 because they gave me a phenomenal bike today. My shoulder felt great and it was the muscle damage around my ribs that caused me the most pain. But the rain definitely helped because it was a lot less physical than in the dry. I just gritted my teeth and got on with it, just trying to stay smooth and not make any mistakes. Conditions were pretty bad and it was a case of working out when and where you could push. I'd have been happy to finish the race and then go home to think about Assen. But I saw a few people succumbing to the conditions and I saw P3 on by board and I couldn't believe it. At that time though there were still eight or nine laps to go and I couldn't feel my hands or my feet because it was so wet and cold. It was difficult but it was a good way to the end the weekend for the Team after what happened to Cal. Nobody wants to get hurt, but being injured for your home race is really tough to take, so I wish him a quick recovery and hope to see him back in Assen."

Herve Poncharal
Monster Yamaha Tech3 Team Manager

"Colin was absolutely amazing. Nobody would have bet any money on him to be on the podium just one week after having an operation on his broken collarbone. But Colin has been a hero and this is a memorable day for the Monster Yamaha Tech 3 Team. It was a bad day yesterday when we saw Cal crashing and he was forced to miss his home race. But Colin helped put the smile back on the faces of everyone inside the Monster Yamaha Tech 3 Team with a brilliant ride. And not only was he fast but he was very brave too. He was robbed of a podium finish in Jerez in similar conditions a few weeks ago and I have to give him a lot of respect because it would have been easy just to go home to rest after his injury in Catalunya. He rode for the Team more than anything and it shows how much he is still enjoying racing and how motivated he is. He has been in a lot of pain but he's never complained and he treated the weekend like a normal weekend and his ride was the best of the day in MotoGP. He didn't make a mistake like some of the others so we are overjoyed. We can't be completely happy because of what happened to Cal and it was a big pity he couldn't race, but he is a fighter and we'll see him back stronger than ever soon. I know how much he wanted to ride in front of his home crowd, bu t he has seen what Colin has achieved so quickly after his collarbone injury, so hopefully this will be a good inspiration for him."

2011 MotoGP United Kingdom
Race 1

1. Casey Stoner

2. Andrea Dovizioso

3. Colin Edwards

4. Nicky Hayden

5. Alvaro Bautista

6. Valentino Rossi

7. Karel Abraham

8. Toni Elias

9. Hiroshi Aoyama

10. Loris Capirossi

11. Hector Barbera

12. Randy De Puniet

MotoGP World Rider Standings
After Race 6 of 18

1. Casey Stoner 116

2. Jorge Lorenzo 98

3. Andrea Dovizioso 83

4. Valentino Rossi 68

5. Daniel Pedrosa 61

6. Nicky Hayden 60

7. Hiroshi Aoyama 43

8. Colin Edwards 37

9. Ben Spies 36

10. Karel Abraham 33

11. Marco Simoncelli 32

12. Hector Barbera 31

13. Cal Crutchlow 30

14. Toni Elias 28

15. Loris Capirossi 22

16. Alvaro Bautista 22