2011 World Superbike Championship Misano Results
Chaparral Motorsports
|
June 12, 2011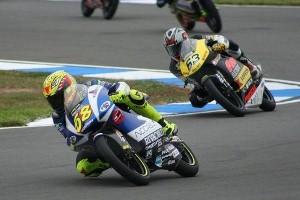 Checa Extends Lead Over Biaggi in World Superbike
Ducati rider Carlos Checa was able to pick up his eighth win of the World Superbike season and complete a weekend sweep by besting rival Max Biaggi in two races at the Misano Adriatico Circuit in Italy.

Checa had the advantage going into Sunday's race, as he had already put together an impressive victory on Saturday, holding off a late charge by Biaggi to earn the points for his team.

The second race was a bit more interesting, as a stoppage was involved. Checa was in the lead and had almost a full second on Biaggi after ten laps, when race officials called for the stoppage. On the restart, Biaggi was able to shoot past Checa and it appeared the Ducati rider might not have a chance to catch up.

Yet Biaggi, the defending champion for the competition, made a rare mistake when he took a turn too wide, allowing Checa to get past. The Aprilia rider was battling a small fracture in his foot all weekend, which might explain his inconsistent racing. Ultimately, Biaggi was forced to settle for second on both days.

Checa now has a pretty massive lead over Biaggi, with a 67-point cushion in the point standings after Biaggi's DNF last week.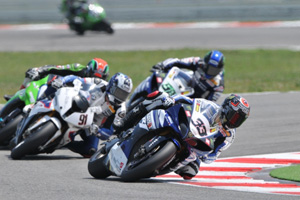 Highs and Lows for Yamaha in Misano
The Misano world circuit was host to a dramatic race day today with both highs and lows for the Yamaha World Superbike Team.

There were no easy points to be had on the Italian race track today for Melandri and Laverty. After initially falling back to fifth from his fourth place start on the grid in race one, Melandri hastily regained position, tucking in behind Haslam and awaiting the opportunity to push to third. Struggling to maintain the pace the Italian was unable to fight for a victory and crossed the chequered flag in third place with a much desired podium at his home race. Team-mate Laverty completed the first race of the day in fifth place, just losing out on fourth position in the final stages of the last lap as Sykes took advantage of the Irish-man's struggle with gradual tire wear.

Race two was filled with drama as Melandri and Camier crashed out in the tenth lap, causing the race to be red flagged. Both riders were unable to re-enter the pit boxes with their machines in the time required by the regulations in order to be permitted to participate in the 14 lap second part of race two. Team-mate Eugene Laverty also experienced a tough second race. Following a perfect start off eighth place on the newly formed grid, Laverty shot into fourth place. After just one lap the Irishman overtook Haslam to take position of third place behind Checa, winner of the previous race before he unfortunately lost the front of the machine, causing him to crash out. Unhurt Laverty returned to the track and completed the race in 13th place.

Following the difficult race day in Misano, Marco Melandri will head to Aragon this coming weekend sitting in third place in the World Superbike standings with 150 points, 95 points behind Checa in the lead. Laverty still occupies fourth place with a total of 123 points, 17 points ahead of Haslam in fifth.

Marco Melandri
Yamaha World Superbike Team
3rd, DNS

"It was a very difficult day, one to be forgotten. Not due to the crash, but mainly for the inability to compete. Even in Race two I was too slow to be as competitive as I should be. This morning I had difficulty riding the bike and struggled to get the podium. We made some changes prior to race two but that didn't improve anything. The bike seemed to be completely lacking in grip from the beginning and I just suddenly lost the front."
Eugene Laverty
Yamaha World Superbike Team5th, 13th
"We took a gamble with the rear tire in race one and it was okay until about four laps to go. The left side of the tire was completely worn which is very strange considering it's a right handling track. I was very disappointed to lose fourth position just at the end. In race two once the red flag came out, I changed tire choice and used the same tire as in race one and immediately had better feeling with the bike. I thought I could fight with Checa and Biaggi in the lead but most importantly I wanted to pull away from the bunch behind and get a clear third. Unfortunately I lost the front and crashed out. We just have to forget what happened and look forward to Aragon. It's a track we tested just recently and we should be strong."
Andrea Dosoli
Yamaha World Superbike Team Manager
"A difficult race day today even if we managed to get a podium in race one with Marco and could have had the opportunity to be back on the podium again in race two before he unexpectedly crashed mid race due to possible traces of fluid on the track . It was a pity to have lost out on vital points for the Championship. Eugene, after experiencing an issue with the rear tyre in race one and the first part of race two was unable to demonstrate his potential, follow the leaders and earn a well-deserved podium. Unfortunately he lost the front of the bike and was unable to carry on as he aimed. We expected Biaggi to be strong and competitive and also Checa and Ducati who have won more than 75 per cent of the races here in the last ten years but we can expect the coming four race tracks to suit our machine better. We have to work harder than ever and be more competitive in the next round in Aragon, where we have good data from recent tests. We are leaving Misano knowing that we could have fought for a podium with both riders and with bitterness for the points lost and the further gap created with the leaders."
Injured Fabrizio 6th at Misano WSBK
Team Alstare Suzuki rider Michel Fabrizio bounced back from a heavy fall in the first race of today's Misano World Superbike round to take a fighting-sixth in the second race - despite riding with a suspected broken scaphoid bone in his wrist.

Fabrizio had pushed a little too hard on the opening lap of the first race and was high-sided exiting turn three, landing heavily on his right arm. He went to the Medical Centre and was diagnosed with a suspected fracture, but he started race two in determined fashion and was carving his way up through the field from the third row of the grid when the race was red-flagged after 11 laps.

Race two then became a 14-lapper and Fabrizio charged his way up through the field on his way to a fighting sixth place.

Series leader Carlos Checa (Ducati) consolidated his hold on the Championship with another double victory - his third of the season. Max Biaggi (Aprilia) was runner-up in both races with Marco Melandri (Yamaha) third in race one and Noriyuki Haga (Aprilia) third in race two.

Michel Fabrizio
DNF, 6th

"Actually I feel a bit disappointed this weekend - and not because of my injury really. The wet weather ruined my Superpole and any chances of a good grid position. I had been third in regular qualifying and then 13th in Superpole and that meant I was way down the grid and needed binoculars to see the lights!

"In race one, I charged off the line as hard as I could because I didn't want the leaders to open a big gap straight away, but I pushed a bit too hard and high-sided in turn three, hurting my right arm in the process. I went to the Clinica Mobile and was told that I had probably broken my right scaphoid, but that it would take a day or two to confirm it. I thought that I might as well try and start race two and that's what I did. I fought my way up and passed quite a few riders and was in about seventh place, I think, when the race was stopped.

"Race two then became a 14-lap race and although I tried my best, I just didn't have the strength to keep the throttle at full gas when I wanted to. I lost out a lot on acceleration as a result and that's what prevented me from progressing further up the field - that and the fact that I ran out of laps. I would have preferred a straight 24-lap race because that would've given me time to do lots of overtaking.

"Without the injury I think I could've mounted a podium challenge - even with my grid position. But really, yesterday's rain ruined everything and today's crash in race one didn't help. I will go and see a specialist on Tuesday and further X-rays will be taken. For me, it doesn't really matter if I have broken my scaphoid or not, because I will be racing at Aragon next weekend for sure. If I have to have some sort of protective cast on my arm to race, then that's what I'll do. But one thing is for sure: I will be on track again next weekend."
2011 World Superbike San Marino Results
Race 1
1. Carlos Checa
2. Max Biaggi
3. Marco Melandri
4. Tom Sykes
5. Eugene Laverty
6. Leon Camier
7. Sylvain Guintoli
8. Ayrton Badovini
9. Joan Lascorz
10. Maxime Berger
11. Ruben Xaus
12. Matteo Baiocco
13. Alessandro Polita
14. Chris Vermeulen
15. Lorenzo Lanzi

Race 2
1. Carlos Checa
2. Max Biaggi
3. Noriyuki Haga
4. Ayrton Badovini
5. Leon Haslam
6. Michel Fabrizio
7. Sylvain Guintoli
8. Ruben Xaus
9. Joan Lascorz
10. Chris Vermeulen
11. Lorenzo Lanzi
12. Roberto Rolfo
13. Eugene Laverty
14. Tom Sykes

World Superbike World Point Standings
After Race 6 of 13
1. Carlos Checa 245
2. Max Biaggi 173
3. Marco Melandri 150
4. Eugene Laverty 123
5. Leon Haslam 106
6. Leon Camier 101
7. Michel Fabrizio 95
8. Jonathan Rea 94
9. Jakub Smrz 83
10. Sylvain Guintoli 72
11. Ayrton Badovini 72
12. Noriyuki Haga 70
13. Tom Sykes 65
14. Joan Lascorz 53
15. Troy Corser 49
16. Ruben Xaus 44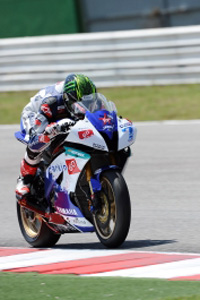 Difficult Race for Davies in Misano
Yamaha ParkinGO Team encountered their first disappointing race day so far in the 2011 World Supersport Championship. With Luca Scassa, relegated to watching the race from the team garage, Davies was presented with a window to create a gap ahead of his team mate and take the sole lead in the championship. The glorious sunshine in Misano today promised ideal track conditions for the British rider to capitalize on this opportunity but he was prevented from doing so due to an issue causing vibration in his machine present from as early as the the pre-race warm up lap. Despite the difficult circumstances, Davies put his head down and got off to an ideal start off the grid, putting him immediately in the lead. Struggling to maintain stability and position, Davies fell back to third place by lap five from where he fought hard with Parkes and Dionisi in the lead. By mid race the Yamaha ParkinGO rider began to suffer from a lack of grip but despite this continued to put on a strong battle before crossing the line in sixth place.

Davies and team-mate Scassa will be back on their YZF-R6 next week in Aragon, a track they successfully tested only a month ago. Scassa is looking forward to getting back on his machine after over five weeks and make up for points lost in Misano due to his refused entry. Scassa is now in third place in the 2011 WSS standings while team-mate Davies is in second place with 80 points, just five points behind Parkes. Yamaha remain top of the Manufacturers Standings with a 22 point lead.

Chaz Davies
Yamaha ParkinGO Team
6th

"As soon I entered the first tight corner on the warm up I could feel there was a problem, the bike was vibrating quite a lot. I rushed back to the grid, told the crew that there was something wrong but there was nothing I could do about it at that stage. It was difficult to ride and push to the front. I also seemed to lack grip on the rear. I had a similar grip problem this morning but I was convinced the higher track temperatures this afternoon would make the difference. I'm disappointed that we've lost valuable points but I'm looking forward to Aragon next week."
2011 World Supersport San Marino
Race 1
1. Broc Parkes
2. Fabien Foret
3. Sam Lowes
4. David Salom
5. Ilario Dionisi
6. Chaz Davies
7. James Ellison
8. Robbin Harms
9. Roberto Tamburini
10. Gino Rea
11. Florian Marino
12. Miguel Praia
13. Alessio Velini
14. Roman Stamm
15. Alexander Lundh
22. Iuri Vigilucci
23. Oleg Pozdneev

World Supersport World Point Standings
After Race 5 of 12
1. Broc Parkes 85
2. Chaz Davies 80
3. Luca Scassa 70
4. Fabien Foret 56
5. David Salom 55
6. Robbin Harms 51
7. Sam Lowes 43
8. Florian Marino 31
9. James Ellison 28
10. Massimo Roccoli 26
11. Gino Rea 22
12. Roberto Tamburini 21
13. Miguel Praia 17
14. Vittorio Iannuzzo 15
15. Alexander Lundh 14
16. Danilo Dell'omo 13
27. Alessio Velini 3
30. Luca Marconi 1