World Superbike Misano Practice Report
Chaparral Motorsports
|
June 11, 2011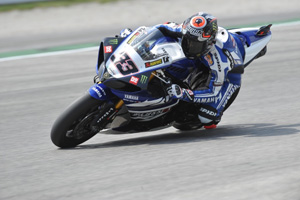 Incredible Front Row for Melandri in Eventful Wet Superpole
Yamaha World Superbike Rider Marco Melandri fought hard and performed flawlessly to earn a well- deserved front row on tomorrow's starting grid in his home race in Misano.


This afternoon's Superpole sessions opened in dramatic fashion with the arrival of unseasonal rain on the Italian Riviera. The threatened showers managed to hold off for the morning's free practice and qualifying sessions but a downpour just before the first Superpole gave way to treacherous track conditions causing many riders to slide and crash in the opening laps. Marco Melandri cleverly played a crafty first heat which he completed in fifth position. The Italian carefully tested the track which began to resemble an ice rink as riders such as Checa, Biaggi, Xaus, Camier, Smrz and Laverty slided off their machines, just minutes into the session. Fortunately Laverty was unhurt and managed to get back on his R1 and produce a fast lap in the dying seconds that saw him qualify for the second heat in ninth place. As the rain began to cease and the track dry, Melandri and Laverty improved on lap times and went through to Superpole two in seventh and 11th place. Laverty was unfortunate in the second heat being bumped to tenth place missing out on a second row start in tomorrow's two races by less than a tenth of a second, while his team-mate completed the session in sixth place. Superpole three saw a competitive Melandri battle for pole position but losing time on the final section the Italian settled for fourth place which sets him nicely on the front row tomorrow.


Yamaha World Superbike riders lost valuable track time in this morning's free practice as they were victim to major tyre issues where Melandri was unable to perform for the majority of the session. Despite this set back both riders managed to improve and optimize race settings in the afternoon's free practice enabling them to face tomorrow's races confident they will be contending for a podium.

Marco Melandri
Yamaha World Superbike Team
4th, 1'55.768

"It was very important for me to be careful in the first Superpole, avoid making any errors to test the track conditions, gain confidence in the wet and see where I could improve on the bike before the second Superpole. It got particularly difficult when the track began to dry, I thought we had better grip but the tyres just seemed to give in all of a sudden. We had a very difficult session for this morning's free practice. Suffering from tyre issues, we were unable to work on our race settings for tomorrow. A lot will depend on the weather conditions but I'll certainly do my best. It's great to be on the front row, it should a good race and I'm very optimistic."

Eugene Laverty
Yamaha World Superbike Team
10th, 1'57.454

"We made some big steps in the dry weather especially in the afternoon's free practice, so our race setting should be quite good. I was really looking forward to an enjoyable Superpole, but unfortunately it started to rain just as we were going out. It was very difficult and I struggled, crashing and just missing out on the final eight. Tenth isn't so bad though! We have some work to do if we are to expect a wet race but we should be strong and competitive in the dry conditions we hope for."

Andrea Dosoli
Yamaha World Superbike Team Manager

"As we expected, it rained this afternoon. Unfortunately it came just before Superpole and not having tried the track in wet conditions yet this weekend made the session very dangerous and as a consequence Eugene slipped and ended up losing out on a position in the top two rows. Marco managed the wet conditions flawlessly. He was fighting for Pole in the last lap but lost out on the last sector. We are happy with a front row ahead of tomorrow's races. In this morning's sessions both riders tried to improve on set ups they tested yesterday. They both had issues with the tyres but in particular Marco wasted the entire free practice session unable to work on his race settings which was very important especially considering he is one of the few competitors that hasn't tested on the track before. However the weather should be dry tomorrow and I'm confident Eugene and Marco will be very competitive and have two good races."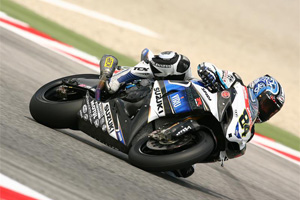 Alstare Suzuki on Misano WSB 4th Row

Rain just before Superpole at the Misano World Superbike round this afternoon put a dampener on Michel Fabrizio and Alstare Suzuki's hopes of a front-row grid position tomorrow and he faces a mountain to climb from the fourth row of the grid.


Fabrizio had been third fastest in the dry and looking forward to a good grid position, but the heavens opened just after the afternoon's untimed session and the Italian had to quickly try and find a good wet set-up on a bike he's only had limited time on in the wet.


Misano's 4.226 kilometre circuit is renowned for being very slippery in the wet and Fabrizio was unable to progress any further than Superpole 1 due to unfamiliarity with the conditions.


Carlos Checa (Ducati) had dominated in the dry, but Briton Tom Sykes (Kawasaki) took Superpole in the wet with a time of 1:55.197. Checa was second with Jakub Smrz (Ducati) third and Marco Melandri (Yamaha) fourth.


The wet Superpole followed a highly-intensive morning timed session which saw the top 16 riders separated by just 1.1 seconds and an afternoon untimed session with 10 riders all within a second of each other.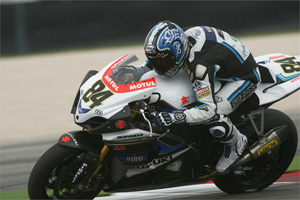 Michel Fabrizio
13th, 2:02.235:

"Obviously I am very disappointed the way things worked out. The weather ruined everything for me today and now I will have a lot of work to do to get good results from the fourth row of the grid. After yesterday and this morning, I felt confident that I could get on the front row of the grid or, at worst, row two. My bike's set-up was good and everything was going pretty smoothly, apart from a small crash this afternoon when I pushed just a little bit too hard trying to get the fastest lap.


"This track is very slippery in the wet and this is my first time on this bike here in the wet and it was very hard to keep upright and not crash. I didn't have much confidence in the wet and couldn't feel what the front end was doing. I rode as best I could but I wanted to make sure I didn't have another crash. I had a few little 'moments' and that was enough for me to keep things steady.


"I am hoping that tomorrow will be dry and I can attack in both races. I need to make two good starts and then fight with the guys up front. I'm keeping my fingers crossed for the weather and, if it is dry, I can really enjoy the battles."

2011 World Superbike San Marino Practice Results

1. Tom Sykes 1'55.197

2. Carlos Checa 1'55.373

3. Jakub Smrz 1'55.745

4. Marco Melandri 1'55.768

5. Leon Haslam 1'56.034

6. Troy Corser 1'56.285

7. Max Biaggi 1'56.480

8. Sylvain Guintoli 1'57.054

9. Ayrton Badovini 1'57.374

10. Eugene Laverty 1'57.454

11. Jonathan Rea 1'57.831

12. Joan Lascorz 1'58.509

13. Michel Fabrizio 2'02.235

14. Maxime Berger 2'02.440

15. Ruben Xaus DNF