Bonanza Plumbing KTM "SCORES" Podium In Baja
Chaparral Motorsports
|
June 8, 2011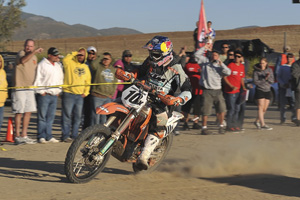 June 4th saw the 43rd running of the historic SCORE Baja 500 in Ensenada, Mexico. KTM riders Ivan Ramirez and Brandon Prieto rode their way to a third place finish on their 2011 450SX-F.


Third time is a charm for team sponsor Bonanza Plumbing. The extreme nature of the Baja is a test of both riders and machinery. In just their third attempt racing in Mexico the team was able to put together all of the elements of a successful ride: bike, rider and support team.


Starting 9th off the line, lead rider Ivan Ramirez quickly worked his way into fourth position. "I actually like starting last because it gives me people to pass...keeps me focused and motivated" says Ivan. At the mile 100 mark, Ivan was up to third position on the course and nearly tied with the lead bikes on adjusted time.


Co-rider Brandon Prieto was challenged with riding the most technical section known as "The Summit". A crash in the rocks would slow his progress and allow the lead Hondas to gain some advantage coming into the 200-mile mark at Borrego.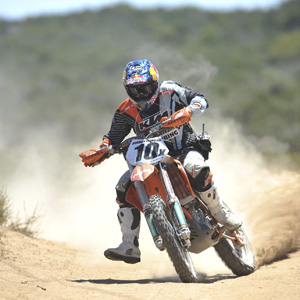 At Borrego Ivan would remount to solo the remaining 250 miles to the finish. Throughout the day many of his time intervals would match those of the leaders, showing that the young 18 year old has the right stuff to be a future Baja Champion. "The bike was great, we did not have any problems today. The GPS registered a top speed of 113mph during the day, so we probably had a little more top speed than the other bikes. We struggled with one tire change and probably should have done another air filter, but overall it was just about riding hard all day to get to the finish without any problems. The course was very rough and technical, but the 450 handles those conditions really well".


Seeing that the leaders had a significant time advantage late in the race, Ivan rode a conservative pace to secure the podium finish. In doing so, he became the top finishing privateer and Mexican rider in his hometown race. "Once I finish high school I will have little more time to devote to racing", says Ivan. He also is currently competing in the WORCS series and the Mexican National Enduro Championship where he leads the Enduro Junior class.


The two JCR Honda teams would spend the day battling amongst themselves for the overall win. With the top prize up for grabs all day as the teams swapped positions both on the course and on adjusted time. At the end of the day, riders Colton Udall and Kendall Norman crossed the finish line nearly side by side in a dead heat. It appeared the Udall/Kamo team got the win, but later they were assessed a time penalty. This gave Kendall Norman and Quinn Cody the overall win and relegated Colton Udall and David Kamo to second.


For Bonanza Plumbing/KTM team owner Dean Potts it was a sweet day.


"Considering that this was a last minute deal, we had a great race. For everything we have been through to get here, a podium is like a win. This is really just a stepping-stone to my vision of an overall win. We have a lot more work to beat the Hondas, but I think it is a realistic goal. We have the bike and riders, we just need more development time and resources. I really have to thank Annti Kallonen and KTM North America for helping put this deal together. We could not have done it without them. Now we just need to sit down and work on a race plan that can be successful for the Baja 1000 in November."


1. Kendall Norman, Santa Barbara, Calif.


Quinn Cody, Buellton, Calif.


Johnny Campbell, San Clemente, Calif.

Honda CRF450X


8:47:07

2. Colton Udall, San Clemente, Calif.

David Kamo, Caldwell, Idaho

Honda CRF450X

8:57:07

3. Ivan Ramirez, Ensenada, Mexico

Brandon Prieto, Ensenada, Mexico

KTM 450SXF

9:25:16