Suzuki GSX-R1000 Wins At Elkhart Lake
Chaparral Motorsports
|
June 7, 2011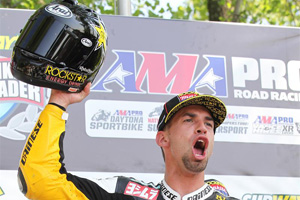 Team Rockstar Makita Suzuki rider and Wisconsin native Blake Young captured an AMA Superbike win as well as a podium in front of his cheering home crowd at Elkhart Lake's Road America at the weekend.


His Rockstar Makita Suzuki team mate Tommy Hayden was right there too, dicing with Young in both races and piloting his Yoshimura-equipped Suzuki GSX-R1000 to two podium finishes.


For Young, though, this weekend in front of his hometown crowd was almost as good as it could get. Young was second in final qualifying on Saturday and then he went out and won that afternoon's AMA Superbike event after a race-long battle in which Young and another competitor swapped the lead throughout all 13 laps. Saturday's victory marks Young's seventh career AMA Superbike win. On Sunday, Young battled for the lead for most of the race before bringing home a solid third-placed finish.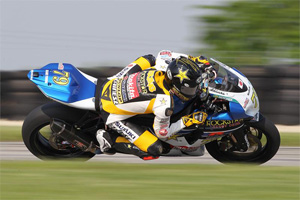 Said Young: "My Rockstar Makita Suzuki team has been working really hard for me and I'm happy to be home, happy to be at Elkhart - this facility is phenomenal - and I'm happy to put on a good show for the home crowd. Now we've got a few weeks off and I'm looking forward to getting back to my training and to being with my family. I'm just glad I could bring home a win yesterday and third is pretty good today."


Hayden also had a good weekend with two podium finishes and a strong showing in qualifying. He qualified for the third spot on the grid, and then he finished up in second place on Sunday and brought home a third-place result on Saturday.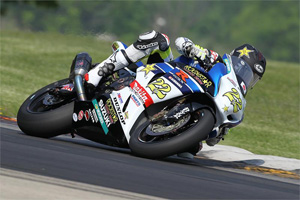 "On Saturday, I did my best to hang in there," said Hayden. "The Rockstar Makita Suzuki GSX-R1000 was working well and I wanted to be there to take advantage if I could make a pass, but in the end, I couldn't make it happen. On Sunday, there were a couple of places on the track where I was better, but my lap times were pretty similar to yesterday. I'm happy to make a little improvement today and move up a spot, but I would rather have been the winner. Overall, the bike is running good and I have everything I need to get the win."


The 2011 Rockstar Makita Suzuki team's next event of the 2011 AMA American Superbike Championship series is at Barber Motorsports Park in Birmingham, Alabama on June 17-19th.

Road America Superbike Race 1 Results:

1. Blake Young

2. Josh Hayes

3. Tommy Hayden

4. Martin Cardenas

5. Larry Pegram

6. Roger Hayden

7. Ben Bostrom

8. Chris Clark

9. Jason Farrell

10. Geoff May

Road America Superbike Race 2 Results:

1. Josh Hayes

2. Tommy Hayden

3. Blake Young

4. Martin Cardenas

5. Roger Hayden

6. Steve Rapp

7. Larry Pegram

8. Chris Peris

9. Chris Clark

10. Ben Bostrom

2011 Superbike Class Point Standings:

1. Josh Hayes 191

2. Blake Young 181

3. Tommy Hayden 168

4. Martin Cardenas 103

5. Larry Pegram 94

6. Ben Bostrom 89

7. Roger Hayden 88

8. Chris Clark 85

9. Steve Rapp 68

10. Geoff May 60