Myers And GSX-R600 Score Best Result
Chaparral Motorsports
|
June 7, 2011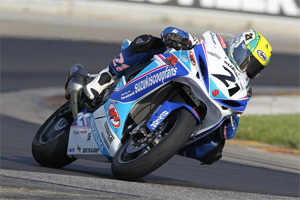 Team SuzukiScoopFans GSX-R600 rider Elena Myers continues to show skill and determination in her charge towards the 2011 AMA SuperSport Championship, scoring her best season finish at the weekend.

Myers carded an impressive fourth-placed finish in Sunday's race at Road America at Elkhart Lake and a strong seventh-place finish the day before. These combined results mean that the 17-year-old Californian is now in fifth place in the West Division's overall Championship standings.

Sunday afternoon's race saw Myers get a great start on her SuzukiScoopFans 2011 Suzuki GSX-R600 and take the lead almost immediately. She continued to battle aggressively for the lead during the first half of the 10-lap race. Although she dropped back to fourth position by the end of the race, there's no question that Myers had her head down and was giving it everything she had for all 10 laps.

"My starts have always been good but that was one of the best I've ever had," said Myers. "Getting third going into the first turn after starting from the third row isn't exactly too bad! I was trying to stay smooth and work with the SuzukiScoopFans Suzuki GSX-R600 instead of against it. Everybody was going at it and obviously some people crashed and I'm glad I wasn't any part of that. I've been trying to focus on being smooth and consistent in the last few races and that worked out for me this time."

The day before, Myers also got a good start and she ran consistently in fifth place on Saturday. Although she fell back a few spots, Myers said that Saturday's race was a good learning experience and she definitely picked up some information that she used in Sunday's race.

"On Saturday, I got a really great start on my SuzukiScoopFans Suzuki GSX-R600," said Myers. "I just went for it right off the bat; I wasn't even paying attention to what was going on around me. A couple of people fell down, but I hung in there and was around fifth. I went back a little after that, and I think it was because we chose a softer tyre and I need a little more practice with learning how to manage that. But at the end, I picked it up again and gave it everything - I didn't even care if I crashed or anything - and I picked up a little more speed."

The 2011 SuzukiScoopFans team's next event of the 2011 AMA SuperSport season will be at Barber Motorsports Park in Birmingham, Alabama on June 17-19th.