KTM Star-Studded Team Wins Perry Mountain 24-Hour
Chaparral Motorsports
|
June 7, 2011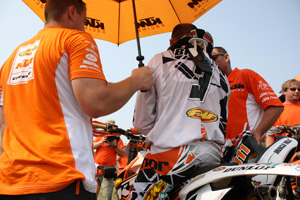 The star-studded KTM-backed 24 hour squad filled with riders from Factory and support KTM teams took an impressive win at the Perry Mountain 24-hour race.


The six-member KTM Team proved once again to be the team to beat. This year's team was comprised of four Factory FMF/KTM Team riders: Russell Bobbitt, Mike Brown, Cory Buttrick and Kailub Russell and two KTM support riders Steward Baylor and Brad Bakken.


Brown, the 39 year-old veteran, started the race for the team in typical fashion by pulling a huge holeshot on the 300 XC two-stroke race machine. At the end of the first 10-mile lap he had over a one minute lead.


From the start to the end of the 24-hour endurance race the KTM team never lost the lead. At the conclusion of the race the team turned 63 laps total and won by a two lap victory over the Quality/KTM Team also riding aboard a KTM 300 XC.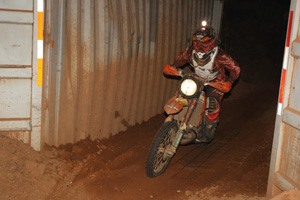 With terrible weather all over the country it was a miracle that temperatures remained warm throughout the day. The temperatures were so hot it actually dried up the course and created quite a lot of dust on the off-road sections. Despite the conditions, the KTM Team remained consistent with their times throughout the daytime hours and didn't let up on their lap times until nightfall where they adjusted their pace to adapt to the dark conditions.


The KTM support crew did an amazing job and helped lead the KTM Team to their impressive victory by getting each rider in and out of the pit changes quickly and smoothly.

Overall Results

1. FMF/KTM Cycle Specialty

2. Quality Time KTM

3. Gas Gas Off-Road

4. Action Kawasaki

5. NAP

6. Bus Drivers

7. The Race Shop

8. Loco X

9. Performance Supercycle

10. No Sweatt