Reigning Champ Takes Victory In AMA Pro National Guard SuperBike Race 2 At Road America
Chaparral Motorsports
|
June 6, 2011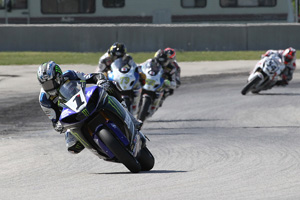 While the final AMA Pro National Guard SuperBike podium at Elkhart Lake, Wisconsin's Road America came as no surprise, the finishing order itself was no Saturday repeat. Monster Energy Graves Yamaha's Josh Hayes and Rockstar Makita Suzuki teammates Tommy Hayden and Blake Young have dominated the 2011 National Guard SuperBike season thus far, but Hayes took issue today with Wisconsin native Young's desire to sweep his home round.

Race 2 saw Hayden get a spectacular holeshot with teammate Young right on his tail. Hayes, however, wasn't looking for a Saturday re-run, so he stuck like glue to the Suzuki duo. For the first several laps, Hayden and Young traded the lead amongst themselves, but in no time at all, Hayes had blown past both Suzuki riders and taken the lead for himself.

M4 Suzuki's Martin Cardenas had meanwhile maintained fourth throughout, unable to make up ground on lead trio but not ceding any to fifth-place Roger Hayden (National Guard/Jordan Suzuki). Behind the youngest Hayden, San Diego BMW's Steve Rapp led a train of shifting riders that was headed in turn by Jordan Suzuki's Ben Bostrom, Iron Horse BMW's Chris Peris (Iron Horse BMW), and Foremost Insurance/Pegram Racing's Larry Pegram.

While Hayes stretched his lead out, Hayden and Young continued to trade the position behind until Hayden staked a decisive claim on the position with five to go. From there the field tore through final laps, none of the frontrunners able to make a move on the man in front. Hayes, Hayden, and Young were followed across the line by Cardenas, Roger Hayden, Rapp, Pegram, Peris, Chris Clark (Y.E.S./Pat Clark/Graves Yamaha) and Bostrom.

For flag-to-flag coverage of today's SuperBike and Daytona SportBike races, plus highlights from AMA Pro's other classes, tune in to SPEED TV tonight from 9 to 11 p.m. PST.

The AMA Pro Road Racing Championship next heads for Barber Motorsports Park in Birmingham, Alabama, for the Barber SuperBike Classic, Round 5 on the season calendar. For tickets and information, visit www.barbermotorsport.com/ama or call (877) 332-7804.

To be a part of the AMA Pro Road Racing Championship, visit www.amaproracing.com and join us on Facebook (facebook.com/amaproroadracing) and Twitter (twitter.com/AMAProSBK).

Josh Hayes
1st:
"I had a different game plan today... Sometimes you make a plan and you're lucky -- you think it, you believe it and you make it happen. Today, I got the passes done in the right places, I gave myself the opportunity to make the split. I was confident that I had the tools in my package and the motorcycle to make it happen. I rode as hard as I could, I was trying super-hard and it just wasn't there to go much faster today. I got to a point where I could relax a bit, make sure I didn't make any mistakes and bring it home."

Tommy Hayden
2nd:
"There were a couple of places on the track where I was better today, but my lap times were pretty similar to yesterday. And it was more of a two-rider battle today with Blake and me, versus a three-man battle like yesterday. I knew Josh was pretty fast through the middle splits, and that the potential was there that if we didn't stay on our toes, he'd get a gap that would be too hard to close down. Josh put his head down, Blake made a few mistakes and kind of helped Josh open it up. We tried to chase Josh down, and at one point I thought we were making some progress but in the end it stayed the same. I'm happy to make a little improvement today, move up a spot, but I would rather have been the winner. Overall, the bike is running good, and I have everything I need to get the win."

Blake Young
3rd:
"I just knew today's pace would be a little bit quicker, but I thought I could run pretty good laps. Then all it took was one lap for me to get settled in and get going, and it took one lap for Josh to really nail it. I tried to do everything I could and put my head down and get back to him as much as possible, and I think I made a pretty good push for a few laps, then I realized I wasn't doing anything. Then Tommy came drafting by me and I thought that maybe working with Tommy and working with the draft that we could get back to Josh.... But I made a few mistakes ... and now I'm just happy bring home third place, even though it would have been better to get the win. Now we've got a few weeks off and I'm looking forward to that and getting back to my training, to being home, and I'm just glad I could bring home a win yesterday and third isn't too bad today."

For details results from today's racing, visit http://results.amaproracing.com.