Salazar Backs Down On Wild Lands Policy
Chaparral Motorsports
|
June 3, 2011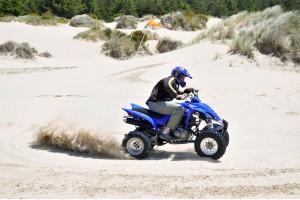 ATV and off-road motorcycle riders scored a victory today, as U.S. Interior Secretary Ken Salazar has backed down from his Wild Lands initiative, which could have closed off access to millions of acres of public land.

In December, Senate Majority Leader Harry Reid dropped his controversial bill, which would have designated millions of acres of public land as "wilderness." Any land designated as "wilderness" remains public property, but OHV (off-highway vehicle) riders would not be able to ride on them as they could other public property.

While Reid backed down, Salazar attempted to circumvent legislation by signing Secretarial Order 3310, commonly called "Wild Lands." This would have essentially done the same thing, but did not require Congressional authority to do so.

The move was largely met with outrage and controversy, as it seemed to be a blatant attempt to ignore the legislative process. Fortunately, the backlash was such that the order never went anywhere. In fact, President Obama's April signing of the Fiscal Year 2011 Continuing Resolution, essentially a temporary budget agreement, included specific language blocking the Bureau of Land Management from instituting the policy.

Since then, Salazar has said that he will instead work with Congress and local initiatives for wilderness designations.

"This is a major victory for motorcyclists and all-terrain vehicle riders and others concerned about appropriate access to public land," said American Motorcyclist Association president Rob Dingman. "But we must remain vigilant. Anti-access groups will continue pushing for legislation to inappropriately close off millions of acres of public land to OHVs."