Payson, Arizona, Gears Up For ATV Rodeo
Chaparral Motorsports
|
June 2, 2011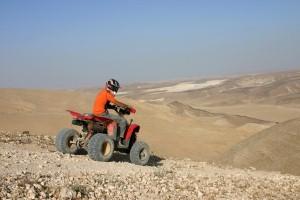 When most southerners hear the word "rodeo," they think of bulls and clowns. The Mountain High Games ATV Rodeo, scheduled for this Saturday, is attempting to redefine the word by throwing ATVs into the mix instead.

Scheduled to be held at the Payson Event Center in Payson, Arizona, there's a full slate of competitions lined up for the day, which is sure to be fun for the whole family. Riders might not be trying to stay on the back of a bucking bull, but they will be able to test their mettle in a wide variety of ATV competitions.

The event is open to any and all comers, although registration space is limited. Riders are expected to provide their own vehicle, along with an ATV helmet and all the appropriate gear.

So far, the events scheduled for the "rodeo" include ATV bowling, pole bending, grocery race, barrel racing, hide race, quad relay race, an obstacle course and something called the "hotshot competition."

Participants will be charged $5 per event, although it's knocked down to $3 if the rider signs up for all competitions. Spectators are allowed to watch free of charge.