Myers Takes Her Best GSX-R600 Result
Chaparral Motorsports
|
June 1, 2011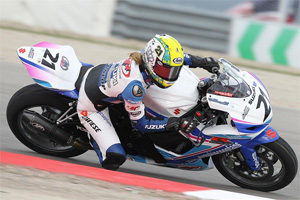 Team SuzukiScoopFans rider Elena Myers returned to AMA SuperSport racing at the weekend with a vengeance. After missing the last round due to a broken wrist, the 17-year-old Californian bounced back and nabbed an impressive fifth-placed finish in the AMA SuperSport race at Miller Motorsports Park in Tooele, Utah, over a very rainy Memorial Day Weekend.

This remarkable result is not only Myers' best finish of the year, but it also puts her firmly in sixth place in the West Division's Championship standings.

Because the AMA series was sharing this rain-soaked weekend with the World Superbike series, there was only one AMA SuperSport race instead of the usual two. Myers made the most of the single 13-lap race, however. Despite the inclement weather, she got a good start on her Team SuzukiScoopFans Suzuki GSX-R600 and put herself into a solid fifth place. She then rode flawlessly, fighting off all comers to hold onto that position until the chequered flag flew.

"It was a wet one for sure," said Myers after the race. "But I got a great start on my SuzukiScoopFans Suzuki GSX-R600 and I kept my head down and tried to stay smooth. I wanted to build up some momentum and go a little faster each lap, and I did exactly that. Some people fell down but I made it through to the end. I admit that my wrist was bothering me quite a bit at the end, but I just fought through it for my team and I'm happy with our result."

Myers will continue to contest all the 2011 AMA SuperSport rounds although she is officially only competing in the West Division Championship.

"Our next race is at Road America next weekend," said Myers. "I'm really looking forward to that. It's a fast track, just like this one here at Miller, and hopefully we'll have some good luck there. My goal is to build on the momentum from this race and take it to Road America, and then through the rest of the season."

The 2011 SuzukiScoopFans team's next event of the 2011 AMA SuperSport season will be at Road America in Elkhart Lake on June 3-5th.