Johnson Wins Springfield TT
Chaparral Motorsports
|
June 1, 2011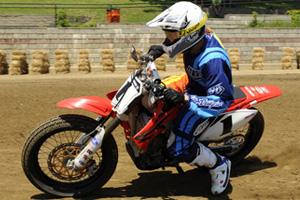 It's not often that motorsports fans get racing on a Monday, much less Memorial Day, but Mother Nature doesn't always cooperate with track times. After several delays all throughout the weekend, the AMA Grand National Springfield TT finally got to run on Monday.

After an unpredictable weekend, the result was anything but a surprise - defending champion Jake Johnson ended up at the front of the pack. This was Johnson's second win on the season and at Springfield.

The rider, on his Honda CRF450R, jumped out to the lead early and never really looked back. Jared Mees and JR Schnabel challenged him early on, but Johnson was able to pull ahead and the duo had to settle for second and third, respectively.

Johnson certainly made things look easy, but afterwards said that wasn't the case at all.

"That was a tougher race than it looked," Johnson said on the podium. "JR and Jared really pushed me hard. I thought I got away a little bit and then I started hearing Jared's bike coming up behind me. I want that thing teched because his bike was really loud when he pulled up. It was pretty intimidating having him on my tailpipe, but fortunately I was able to hold on."