Rockstar Makita Suzuki Wins At Miller
Chaparral Motorsports
|
May 31, 2011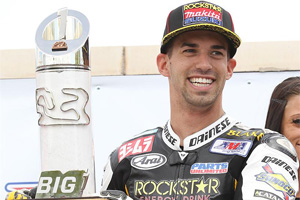 Team Rockstar Makita Suzuki celebrated in style at Miller Motorsports Park in Tooele, Utah as Blake Young piloted his Yoshimura-prepped Suzuki GSX-R1000 to victory in what was arguably the most exciting AMA Superbike race of the season.


Rockstar Makita Suzuki team mate Tommy Hayden was right there with Young, running up front and finishing in an impressive third place to round out the podium.


Because the AMA Series was running in tandem with the World Superbike Series at Miller, there was only one AMA Superbike race instead of the usual two and the Rockstar Makita Suzuki team mates certainly made the most of it.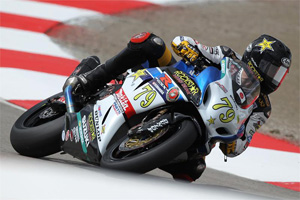 On race day, Young and his Suzuki were running with the race leader almost immediately. The Rockstar Makita Suzuki rider firmly slotted his GSX-R1000 into second place and aggressively battled for the lead throughout all 16 laps. He passed for the lead on several occasions but was unable to make it stick until the final lap. At that point, Young made his move, got out in front, put his head down and brought home the win.


"My Rockstar Makita Suzuki GSX-R1000 was running great and I got up to the race leader pretty quick," said Young. "At first, I was just trying to settle into a comfortable pace for me, but it seemed like every time I tried to relax, Josh would get away a little bit. So I just put my head down and did what I had to do. I wanted to put on a good show for the fans and I think we did that. I'm happy to come out of here with a win for my Rockstar Makita Suzuki team, and now we have just a few days until Road America in my home state. I'm looking forward to racing on that track and it'll be great to race in front of my friends and family back home in Wisconsin."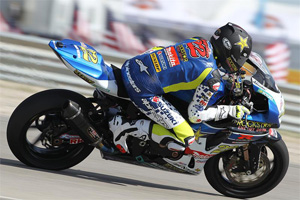 Meanwhile, Hayden was right there in the hunt for the entire race. Like Young, he quickly got up to speed and into the top three on his Suzuki GSX-R1000. In fact, he was less than a second behind his team mate throughout the event and after charging hard and riding flawlessly, Hayden brought home a solid third-placed finish.


"Overall, I think the race went well," said Hayden. "I felt comfortable on the Rockstar Makita Suzuki GSX-R1000 and I was able to get up front pretty quick. We've been on the podium at every race this year and we've been consistent, but I think we need to try and win a few more races. I'm looking forward to Road America - I'm glad it's right around the corner. It's one of my favourite tracks and hopefully we'll have a good result there."


The 2011 Rockstar Makita Suzuki team's next event of the 2011 AMA American Superbike Championship series is at Road America in Elkhart Lake, Wisconsin, on June 3-5th.

Young Bests Hayes for Superbike Victory

During a wild weekend at Miller Motorsports Park in Utah, Rockstar Makita Suzuki's Blake Young was able to take home the victory in the AMA Superbike race, besting Josh Hayes on the final lap.

It was Hayes who earned the holeshot out of the gate, rocketing to the front of the pack with a pair of Rockstar Makita riders - Young and Tommy Hayden - following closely behind. It wasn't until the eighth lap of the race that the lead changed hands for the first time, as Young expertly passed Hayes. The Monster Energy Graves Yamaha rider responded by passing Young shortly thereafter, and the duel was on.

These two traded positions back and forth for the remainder of the day, but in the end it was Young who would end up holding on for the victory, leaving Hayes to settle for second. Hayden was able to get on the podium in third place. His little brother, Roger Hayden, followed closely behind in fourth.

The win was Young's third overall on the season, as he swept the opening doubleheader at Daytona. Still, Hayes has the overall point lead at 134, with Young trailing at 129. Tommy Hayden is still in contention with 122 points, but there's a big drop-off after that - the next closest in the Superbike standings is Martin Cardenas at 67.

Miller Superbike Class Results:

1. Blake Young

2. Josh Hayes

3. Tommy Hayden

4. Roger Hayden

5. Steve Rapp

6. Chris Clark

7. Geoff May

8. Ben Bostrom

9. David Anthony

10. Jeremy Toye

2011 Superbike Class Standings:

1. Josh Hayes 134

2. Blake Young 129

3. Tommy Hayden 122

4. Martin Cardenas 67

5. Ben Bostrom 64

6. Larry Pegram 64

7. Chris Clark 60

8. Roger Hayden 57

9. Steve Rapp 49

10. Jeremy Toye 47