Rapp Takes First '11 Win In BigM AMA Pro Vance & Hines XR1200
Chaparral Motorsports
|
May 31, 2011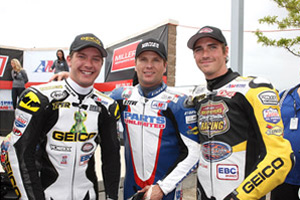 Drag Specialties' Michael Barnes launched into the lead of Monday's AMA Pro Vance & Hines XR1200 event at Miller Motorsports Park's BigM Weekend, only to be forced back to third a lap later by a hard-charging Steve Rapp (Parts Unlimited) and Chris Fillmore (Bruce Rossmeyer's Daytona Racing), Fillmore pressuring Rapp unmercifully as the field blasted through the start of the eight-lap contest.

Rapp took over the lead with just four laps to go, followed within a second by Fillmore, Barnes, and the reigning class champion, RMR Bruce Rossmeyer's Daytona Racing's Danny Eslick. Eslick, however, had other plans for the running order, quickly getting up the inside of Fillmore and setting his sights on Rapp. A string of riders following behind the lead trio, Fillmore made a close inside pass on Eslick to retake second position. And though Fillmore rebuffed Eslick's first attack, which came almost immediately, he was forced to cede the position several turns later.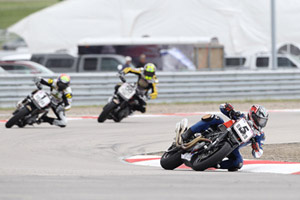 With three laps left to go, the dicing between Fillmore and Eslick had allowed Rapp to put a half-second between himself and the other podium contenders---- a comfortable difference if the two Bruce Rossmeyer teammates stayed focused on each other. As Rapp kept his head down and continued to drag footpegs through MMP's flowing turns, he posted the quickest lap the race had seen yet.

Elbows out, Eslick and Fillmore took the white flag almost side-by-side, having left Barnes several seconds behind but simultaneously lost touch with Rapp, the latter rider now unstoppable more than a second ahead. The pair swapped position heading for the back section of the Utah track, Fillmore making a final bid for the second step but ultimately unable to fend off Eslick, who blasted by and made it stick as the pair tore onto the front straight for the final time.

Third-place Fillmore was followed across the line by Barnes, Michael Beck (J&P Cycles), Tyler O'Hara (GP Bike Parts), Chase McFarland (Latus Motors Racing), Kyle Wyman (Bruce Rossmeyer's Daytona Racing), Joe Kopp (Latus Motors Racing), and Michael Corbino (RMR Bruce Rossmeyer's Daytona Racing).

Tune in to SPEED TV tonight at 9 p.m. PST for highlights from today's XR1200 contest. As the series heads for next weekend's Round 4 at Elkhart Lake's Road America, June 3-5, Fillmore leads the overall AMA Pro Vance & Hines XR1200 Championship by six points over Rapp, 78 to 71. Wyman sits third with 51 points.

For detailed results, visit http://results.amaproracing.com/. To learn more and be a part of AMA Pro Racing, please visit www.amaproracing.com and join us via facebook.com/AMAProRoadRacing, twitter.com/AMAProSBK, and twitter.com/AMAProLIVE.