Lafferty Earns 4th Overall At The Rock Run GNCC
Chaparral Motorsports
|
May 31, 2011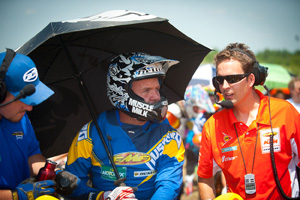 Husaberg Factory rider Mike Lafferty is putting his Husaberg were it needs to be - out front. After a podium at the fifth round of the AMA National Enduro Series, Lafferty followed up with a 4th place result at the fifth round of the GNCC Series this past weekend.


The fifth round of the series, dubbed the Rock Run, was built for Lafferty and his Husaberg. The course consisted of a 14 mile loop with lots of rocks, and to top it, hot weather. Lafferty, who is known as a rock specialist, enjoyed the longer course and said the weather didn't bother him as he has been preparing himself for warmer races.


Lafferty got off to a 4th place start and moved quickly into 3rd position. He spent the first lap of the race running in 3rd place before he dropped to 4th on lap two of the race. He rode a strong race to maintain that position for the remaining laps. When he crossed the finish line to take home 4th overall it was a proud moment for the 8-time National Enduro Champion who has only just returned to GNCC racing this year.


"This is my best GNCC finish in a number of years and it feels good to finish inside the top five. It is rewarding to know that I can still hang with the top guys. My Husaberg worked great in the rough conditions today and I didn't have any trouble at all maintaining my pace. I am really happy to get this finish and am looking forward to the next race," remarked Lafferty.


Joining Lafferty at this race was his Husaberg teammate Nick Fahringer. The Ohio native put together a respectable race to finish 10th overall for the day.

Overall Results XC1 Class

1. Paul Whibley

2. Josh Strang

3. Charlie Mullins

4. Mike Lafferty

5. Kailub Russell

6. Chris Bach

7. Nate Kanney

8. Rory Mead

9. Kenneth Gilbert

10. Nick Fahringer