2011 AMA Motocross Freestone Results
Chaparral Motorsports
|
May 31, 2011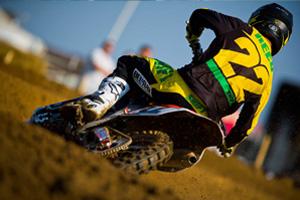 Reed Wins Freestone After Dungey Misfortune
Chad Reed has opened up the AMA Pro Motocross Championship with back-to-back overall wins, although he needed a bit of luck in order to do so.

Reed dominated the first race of the weekend at Freestone Raceway in Texas, and it appeared early on that the Australian rider would easily get his second overall win in as many weekends of the competition. However, Ryan Dungey, who is tied with Reed in the overall standings, came in second in the first moto, meaning that he could sneak past Reed with a win on the second.

In the second race, Reed got out to an early lead, but crashed, allowing Dungey to pass him. Dungey appeared to be in prime position to win the race and the weekend overall, but unfortunately he didn't have the engineering to back it up. A short distance from the finish line, Reed's bike simply quit on him, and he slowed to a full stop.

That allowed Reed to pass him to win both races and the weekend overall. Dungey's misfortune meant he finished 25th in the second race and eighth overall. Davi Millsaps ended up finishing second, while Ryan Villopoto rounded out the podium in third.

"It's a bummer for him," Reed said of Dungey's crash. "You don't want to win like that, but sometimes you've got to be in the right place at the right time. We had the pace to win today, but I almost threw it away with that crash."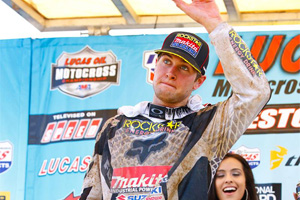 Dungey and RM-Z Strong at Freestone

Team Rockstar Makita Suzuki had a strong showing on their Yoshimura-equipped Suzuki RM-Z450s in the second round of the 2011 AMA Pro Motocross Championship at the Rockstar Energy Freestone National in Wortham, Texas at the weekend despite a fuel issue ruining Ryan Dungey's chance of victory.


Conditions were tough as usual with high temperatures and humidity throughout the day as Dungey rode strong scoring a convincing second place in the first moto, then led every lap of the second moto until a fuel problem hit with just two laps to go that resulted in a DNF. Team mate Brett Metcalfe had a solid performance in the Texas heat as well, scoring a fourth-place overall for the day.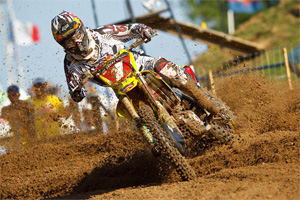 Dungey claimed the fastest time in the morning timed practices. The Rockstar Makita Suzuki rider didn't have the best of starts in the first moto, but he rode hard and powered his RM-Z450 through the field to cross the line in second position. In moto two, Dungey blasted out of the gate just behind his team mate and quickly moved into the lead by the end of the first lap. He led for the next 14 laps and built a 20-second plus lead until the extreme temperatures caused the fuel in his RM-Z to boil. The unfortunate end result was that fuel was expelled through the vent system, which depleted his fuel supply, robbing him of the moto win and the overall victory. Dungey was credited with a 25th-place finish in the second moto and an eighth-place overall for the day.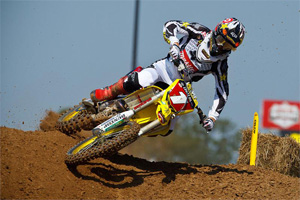 "Overall, I felt awesome all day," said Dungey. "My Rockstar Makita Suzuki team worked really hard and it's just too bad we had the issue in the second moto. It's a bummer for the team and myself - for all of us together, as we're all in it together. I feel bad because we all work too hard for something like this to happen. We just need to keep looking forward; keep moving in the right direction and keep our heads down. We have a lot of racing left, so we have a lot to be thankful for. We have a weekend off and we're gonna do a little testing and see if we can't improve on a few areas and be ready for High Point. It's a great track; it's got some hills and elevation and the dirt's awesome there. It's a fun track and I was able to get a win there last year, so I'm really looking forward to it. "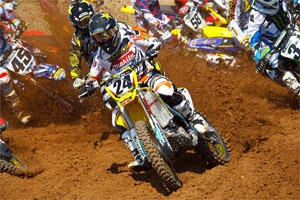 Metcalfe started the day with a solid practice aboard his Suzuki RM-Z450. The Rockstar Makita Suzuki rider had a good start in the first moto but struggled a bit and went down a couple times which resulted in a ninth-place finish. In moto two, the awesome power of his RM-Z blasted Metcalfe out of the gate as he pulled the holeshot, just in front of Dungey. He rode solid until the end, crossing the line for a third-place finish. His 9-3 moto finishes gave him a fourth place overall for the day.


"I was feeling pretty good coming into Texas after my fifth at Hangtown," said Metcalfe. "I knew the heat and humidity in Texas is always tough, so my main goal was to get two good starts and put my Rockstar Makita Suzuki up front and then if the heat was a factor, I could back it down from there. I was able to achieve that and actually got the holeshot in the second moto - My Yoshimura Suzuki crew put together a real good package for the start today, so that was really good. I struggled in the first moto and went down twice. And that was after I was up in the front early, so that was a disappointment. I was able to rebound strong and have a really strong second moto and got a third there and a fourth overall. That was a good little boost for me and now I'm sitting fifth in the points. I'm really thankful to the whole Rockstar Makita Suzuki team today as it was a really good day for us. I'm going to take advantage of this off-week and go back to California and do some testing and get ready for High Point. I like that track and last year I was able to get a podium there, so I'm really looking forward to it."


The Rockstar Makita Suzuki team's next event is the third round of the 2011 AMA Pro Motocross Championship on Saturday June 11th at the Rockstar Energy High Point National in Mt. Morris.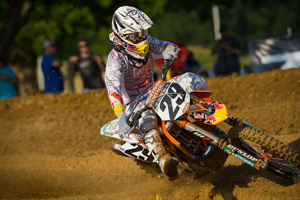 Short Earns Top Ten Finish at Freestone MX

Red Bull/KTM rider Andrew Short made a remarkable comeback after a first moto crash and a poor second moto start to finish 9th overall at his hometown race and the second AMA Pro Motocross Championship race of the season at Freestone Motocross Park.


Short got off to a 10th place start in the first moto and began to push his way forward when a first lap crash stopped his momentum. Short crashed around a tight right-hand corner falling right in the line of traffic. "I just remember getting hit by quite a few riders and it took me about 30 seconds or so before I was feeling good enough to get back on the bike. After about half a lap everything clicked again and I was able to get back to my race pace," remarked Short about the incident.


When Short recovered he was about three-quarters of a lap down and sitting in approximately last place. After an impressive charge through the pack he passed more than half of the field to finish 15th the first moto.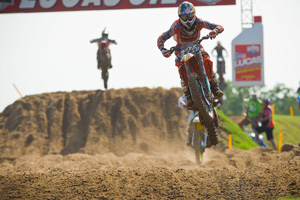 In the second moto Short struggled off the start. He commented, "I had a really dry gate and wasn't able to get the jump I needed to get out front on the start." He came around the first corner around 21st position and went to work right away. By the end of the second lap he had already climbed up to 11th place. In the following laps he was able to pass multiple riders, two of which he got in the same section by cutting underneath and taking the inside line around the same tree turn he had crashed in the first moto. By the end of the moto he had climbed to 6th place. His 15-6 results gave him 9th overall.


"I am bummed that I crashed in the first moto and had a bad start in the second but overall I feel good about my ride today and am glad to come out and get a solid race under my belt. We had a bad first week at Hangtown so it feels good to come out of this race with a top ten finish," stated Short.


In the 250 Motocross class, it was Short's teammate Marvin Musquin who set the fastest lap time in practice. When the gate dropped for the first moto he nearly holeshot but got edged out at the last second by Justin Barcia. A few turns later, Barcia swapped out in front of Musquin leaving Musquin with nowhere to go. Musquin hit the rear tire of Barcia's bike head on as Barica's bike lifted off the ground resulting in a bad crash for both riders. Musquin was immediately hauled off in the medical cart for further evaluation. The results showed a broken thumb and an estimated recovery time of 8-9 weeks.


"I am very disappointed in this race. I felt very confident today and was really excited about this season and racing in the U.S. I just recovered from an ACL injury and can't believe that I am hurt again. I am sad that it is not my fault and just a racing accident that I couldn't avoid. I will do my best to recover to 100% as soon as possible so I can return to racing and put on a good race for the fans," Musquin reported.


Please check the KTM website regularly for more updates on Musquin's condition and further details about the Red Bull/KTM Factory Racing Team.


The next event will be the High Point Motocross National on June 11th.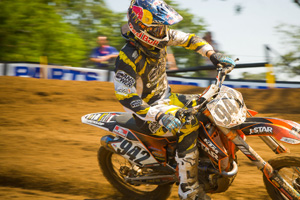 JDR/J-Star/KTM Race Report - Freestone MX

JDR/J-Star/KTM rider Tye Simmonds earned 12th overall after turning in 13-12 moto results at the second round of the AMA Pro Motocross Championship Series at Freestone MX Park.


Simmonds put together a mid-pack start in the first 450 moto rounding the first lap in 17th place. He was able to close the gap on a few riders ahead and inched his way slightly closer to the top ten. By the end of the first moto he had climbed up to 13th place.


In the second moto Simmonds pulled a better start and came around the first lap in 14th place. In the next few laps he put on a charge and was able to pass Christophe Pourcel and Michael Byrne and was handed another position when Tommy Hahn fell. By lap six he was sitting in 11th position. Around the tenth lap Simmonds began to struggle with the heat. The warm and humid Texas weather began to take its toll and Simmonds had to slow down his pace to finish the moto. He only lost one position before the checkered flag flew and he crossed the line in 12th place.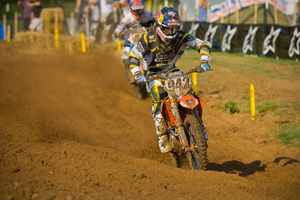 "I am glad to be finishing closer to the top ten, but I am upset that my endurance wasn't there at the end of the second moto. I was strong in the first half but died off at the end and I need to focus on my conditioning at the end of the moto so I do not give up any positions," remarked Simmonds.


The next event for the JDR/J-Star/KTM Team is the High Point Motocross National on June 11th where Simmonds teammate PJ Larsen plans to return to racing action after recovering from a wrist injury during the Supercross season.

Freestone 450 Class Overall Results:

1. Chad Reed

2. David Millsaps

3. Ryan Villopoto

4. Brett Metcalfe

5. Ricky Dietrich

6. Jake Weimer

7. Christian Craig

8. Ryan Dungey

9. Andrew Short

10. Nick Wey

2011 Motocross 450 Class Standings:

1. Chad Reed 97

2. Ryan Villopoto 76

3. David Millsaps 72

4. Ryan Dungey 69

5. Brett Metcalfe 64

6. Ricky Dietrich 53

7. Christian Craig 47

8. Kevin Windham 45

9. Jake Weimer 44

10. Tommy Hahn 40