Rossi Tests 2012 Bike In Italy
Chaparral Motorsports
|
May 27, 2011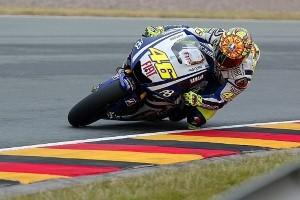 The 2011 MotoGP season is still under way, but big changes coming to the competition for next year mean that many teams are trying to get the jump on testing now so the models can be ready. That's certainly the case for Ducati and Valentino Rossi, who recently tested the brand-new Desmosedici GP12 for the second time.

Back in April, Rossi and teammate Nicky Hayden were able to try out the machine at the Jerez track in Spain, suggesting a few changes for the team to incorporate. This time, Rossi tested at his home Mugello circuit, located just north of Florence, Italy.

Rossi was able to complete 60 laps on the new model, giving helpful feedback to chief engineer Filippo Preziosi.

"I'm pleased, because it was a positive test," Rossi said. "We took full advantage of the time we had, because the track and weather conditions were perfect... we tested everything that Filippo had planned to try, and we're satisfied because, although we're still at a pretty early stage, we're going in the right direction."

The new bike will be in action for 2012, when changes to MotoGP rules will allow for larger engines to be used by all riders.