2011 AMA Motocross Hangtown Results
Chaparral Motorsports
|
May 23, 2011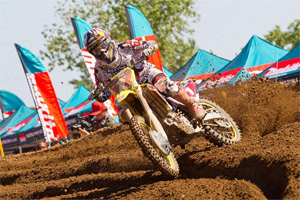 Dungey Shares MX Series Lead
Team Rockstar Makita Suzuki showed off the dominance of its riders and the Yoshimura-equipped Suzuki RM-Z450 in the AMA Pro Motocross Championship season opener at the 43rd Annual Rockstar Energy Hangtown National at the weekend.

Defending Champion Ryan Dungey rode strong all day scoring the win in the first moto and backing that up with a solid second-placed podium finish in the second moto. Team mate Brett Metcalfe also rode strong and consistently with two fifth-placed results in his first race since an injury sidelined him in March.

Dungey and his RM-Z were strong from the start, with two solid practices that gave him the eighth gate-pick for Moto 1. A great start put him near the front, just behind Metcalfe. He worked his Suzuki into second in lap two and made a charge for the lead, which he was able to grab in lap six and powered his RM-Z450 across the finish for the first 450 moto win of the year.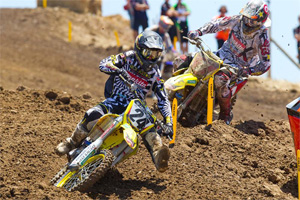 In Moto 2, Dungey had another strong start, which put him in second place and he was able to pass for the lead in lap six. He fell back to second in lap eight and battled for the lead, but was unable to make the pass and finished second. His one-two moto finishes gave him a second-place overall for the day and currently tied for the lead in the season points going into next weekend's event in Texas.

"Overall, our day was really good," said Dungey. "We had a good, strong set-up on my Suzuki from practice and my Rockstar Makita Suzuki team made just a few adjustments, which made it even better for the two motos. I got good starts today, which was very helpful. I was able to get out in front and pull away for the win in the first moto, which was a good start to the season. I wasn't able to get the job done in the second moto and ended up in second for the moto and second on the day. It's a really good solid start for the season. There's a lot of motos and a lot of racing. We'll keep moving forward and building from here and we'll be good."

Metcalfe had a great first day back on his RM-Z and started by scoring the seventh fastest lap in practice. In Moto 1, the Rockstar Makita Suzuki rider blasted his Suzuki out of the gate and into the front. He ran in second for the first two laps before falling back and finishing fifth. Metcalfe had a solid start in Moto 2 and rode strong to move from 10th to eventually cross the line with another fifth-placed finish. His 5-5 results gave him fifth overall for the day.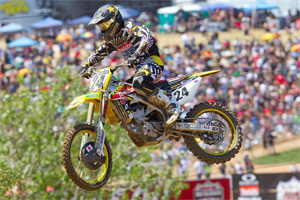 "It was really awesome today," said Metcalfe. "It's good to be back with my Rockstar Makita Suzuki team after being out injured for a while. My Yoshimura-equipped RM-Z was unreal this weekend. It is good to be back racing and I really like the outdoors, so that's a plus for me. I wanted to get a good start to the season and I'm really happy with this fifth overall finish. Coming away, we got a good load of information and learned a lot that will help give me a little more speed out there by making me more comfortable, and then I'll be able to be more aggressive. I'm really looking forward to the next round in Texas so I can build on this result."

The Rockstar Makita Suzuki team's next event is the second round of the 2011 AMA Pro Motocross Championship on Saturday, May 28th at the Rockstar Energy Freestone National in Wortham, Texas.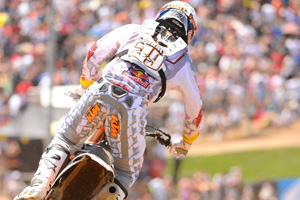 Red Bull/KTM Race Report - Round 1
Red Bull/KTM Factory Team riders Mike Alessi and Andrew Short had a weekend they would like to forget at the opening round of the AMA Pro Motocross National Championship Series as both riders had a spell of bad luck.

The day started out well for the Red Bull/KTM Team when Alessi turned the fastest practice time on his KTM 450 SX-F. Not only did he have the fastest lap time, but his time was over 1 second better than the next closest competitor.

Approximately six minutes into the second timed practice session, Alessi suffered a horrendous crash. The KTM rider knocked himself out during the crash and the practice was red flagged for his safety. After some time with the medics Alessi was able to get back on his feet and reported to the Asterisk Medical Unit for further evaluation. Alessi was soon driven to a local area hospital where they evaluated his concussion. He is expected to make a full recovery and return to racing in approximately 3-4 weeks.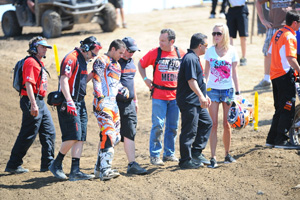 "I felt so good this morning and was very confident in my speed and my bike. I thought today would be my day but unfortunately I suffered a crash and I am lucky I was not seriously hurt. I will rest next week and hope to be back by High Point," remarked Alessi.

Alessi's teammate, Short, also turned in a good practice time within the top ten. He had a decent gate pick for the first moto and was able to come around the first corner inside the top ten. Former 125 National Motocross Champion Mike Brown also made an appearance at Hangtown and was sitting in 8th aboard his KTM after the first lap. After the first few laps, Short was able to make a pass on Brown and took over 8th position. Short remained in 8th place for the majority of the moto before a battle ensued with Tommy Hahn. The two riders battled for the 8th place spot for a solid lap before Hahn took over the position. Short eventually settled into 9th place where he remained through the conclusion of the first moto. Brown went on to finish an impressive 13th overall.

Short got off to a better start at the beginning of the second moto. This time he rounded the first lap in 8th position while Brown was in 9th. Short passed Kyle Chisholm for 7th on the second lap and raced in that spot for the next four laps. On lap seven he was able to get around Brett Metcalfe to secure 6th place. He spent the next lap closing the gap on the 5th place ride of Jake Weimer. It appeared as if Short was on his way to catching Weimer when bad luck struck. Short encountered a mechanical problem on the ninth lap and had to withdraw from the race.

"It was definitely disappointing to suffer a mechanical problem in the second moto that caused me to DNF. I know my team will work as hard as they can to solve the situation and we should be ready to go for my hometown race in Texas next week," remarked Short.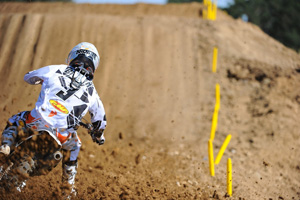 After sixteen grueling laps in the second moto, thirty-nine year-old Brown was able to hang on for 15th. His 13-15 scores earned him 15th overall for the weekend. "My goal was to finish inside the top ten so I am a little behind where I would have liked to finish. However, it was fun to return to the motocross series. I plan to attend a few more this year in order to keep my national number. Hopefully I can move closer to the top ten at the next event," remarked Brown.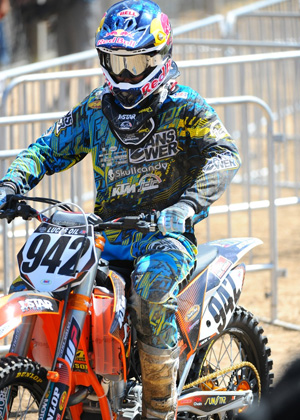 JDR/J-Star/KTM Team Race Report - Hangtown MX
JDR/J-Star/KTM rider Tye Simmonds had a decent showing at his first-ever U.S. AMA Pro Motocross Championship Series race finishing 16th overall.

The opening round of the Lucas Oil AMA Pro Motocross Championship Series took place at Hangtown Raceway. Simmonds qualifying times were not as decent as he expected, qualifying 28th fastest into moto one. Despite his poor gate pick for the moto, Simmonds was able to come around the first corner in 12th position.

"I was able to get a pretty nice start in the first moto and was very close to the top ten as we rounded the first corner. The start is key in every race and starting better than I typically do really helped me in the first moto score," remarked Simmonds.

Simmonds moved up to 11th on the second lap and maintained that position for the majority of the race. With only three laps to go he lost one position to Ricky Dietrich before crossing the finish line in 12th overall.

The second moto was a bit tougher for the Australian as he rounded the first lap in 19th place. He passed one rider for 18th on lap two but then struggled to find his pace in the moto. 
"I was riding really tight the first few laps and wasn't able to get into a good rhythm," stated Simmonds. He eventually got into his comfort zone around the halfway point at which time he picked off two more riders and moved into his finishing position of 16th overall. His 12-16 moto scores earned him 16th overall for the day.

"My overall goal is to be inside the top ten. I think this is a realistic goal for me in my first race season. I am really looking forward to Texas as I know my conditioning should come into play at that round and hopefully I inch closer to a top ten result."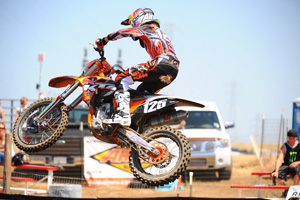 Musquin Earns 5th at AMA Motocross 250cc Class Debut
Red Bull/KTM Factory Team rider Marvin Musquin earned 5th overall at the opening round of the AMA Pro Motocross Championship Series held at Hangtown Raceway in Prairie City, CA.

In his U.S. AMA Motocross 250cc class debut, he turned heads after turning the fastest lap in both timed practice sessions. "Last week when I raced the USGP at Glen Helen I was not so good in the timed practice and thought I would be far off the race pace. It was very exciting to turn a fast time in practice, it was a much better result than I expected," commented Musquin.

The 2X MX2 World GP Champion, received first gate pick for moto one based on the timed qualifying scores. He got a decent jump and was within the top ten at the start of the moto. He quickly moved through the pack from 10th to 6th within the first five laps of the race. He passed Cole Seely for 5th on lap eight and continued to charge toward the lead group. On lap twelve he was able to move into 4th place when Darryn Durham had troubles. He went on to cross the checkers in 4th.

After having an exciting first moto, Musquin was looking forward to improving upon his results in moto two. This time his start did not go as well as expected. "I crashed in the third turn and lost a lot of time," reported Musquin. At the end of lap one Musquin was sitting in 30th position. He remarkably passed by eight people on lap two to move into 22nd and by the halfway point had already moved into 10th place. On lap eleven he moved past Broc Tickle and Cole Seely to climb to 8th place and he got around Darryn Durham for 7th on the following lap. With two laps to go he made a pass on Kyle Cunningham for 6th place. After an impressive charge through the pack he was able to secure 6th place for moto two. His 4-6 results earned him 5th overall for the day.

"I am really excited with 5th place. I felt really comfortable on my KTM and on the rough track all day. I did not get tired like I thought I might and I was able to stay strong throughout both motos. I am looking forward to a strong season," remarked Musquin.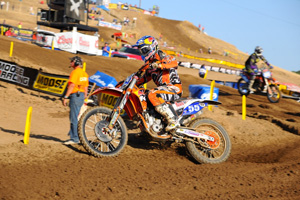 Steffi Laier Earns 3rd at Hangtown
Red Bull/Teka/KTM rider Steffi Laier earned 3rd overall at the opening round of the Women's Motocross Series held at Hangtown Raceway.

Laier was consistent throughout the day qualifying third fastest in both timed practice sessions. Her 3rd place qualifying times earned her the third gate pick at the start of moto number one.

When the gate dropped, Laier got off to a decent start rounding the first turn in 5th place. She quickly caught and passed two of the riders to place her KTM 250 SX-F into a podium position. She maintained the 3rd place spot through the end of the moto.

In the second moto she got off to a much better start and rounded the first corner in 2nd position. When the leader, Jessica Patterson, went down early, Laier was able to move into the lead. Laier led the remainder of the first lap. She continued to lead for the next lap while excited fans cheered on the three-way battle between Laier, Patterson and Ashley Fiolek.

Laier made a mistake at the halfway point of the moto and came too far outside off a jump and lost her position to Patterson and later to Fiolek. She fell back to 3rd but remained strong to the end of the race and was able to finish 3rd overall for the day.

"It feels good to be back in the U.S. This is the first time I have raced Hangtown in about ten years. The track was very rough today and my arm gave me a little trouble at the end of the moto from a practice crash injury earlier in the week. Overall I was glad to get on the podium here and will now return to Europe to pursue the Women's MXGP Championship," commented Laier.

Next Event: Freestone MX - May 28, 2011

Overall 450 Class Results
1. Chad Reed - 2,1
2. Ryan Dungey - 1,2
3. Ryan Villopoto - 3,3
4. Kevin Windham - 6,4
5. Brett Metcalfe - 5,5
6. Davi Millsaps - 4,7
7. Tommy Hahn - 8,8
8. Christophe Pourcel - 7,11
9. Ricky Dietrich - 11,9
10. Christian Craig - 14,10
11. Michael Byrne - 10, 14
12. Jake Weimer - 21,6
13. Kyle Chisholm - 16,12
14. Nick Wey - 15,13
15. Mike Brown - 13,15
16. Tye Simmonds - 12,16
17. Andrew Short - 9,34
18. Calle Aspergren - 26,17
19. Kevin Rookstool - 19,19
20. Robby Bell - 17,22

Overall 250 Class Results
1. Blake Baggett (2,1)
2. Dean Wilson (1,3)
3. Tyla Rattray (5,2)
4. Eli Tomac (3,4)
5. Marvin Musquin (4,6)
6. Gareth Swanepoel (9,5)
7. Kyle Cunningham (8,8)
8. Darryn Durham (10,9)
9. Broc Tickle (13,7)
10. Cole Seely (7,13)

Women's Overall Results
1. Jessica Patterson - 1,1
2. Ashley Fiolek - 2,2
3. Steffi Laier - 3,3
4. Tarah Gieger - 4,7
5. Jacqueline Strong - 7,5
6. Tatum Sik - 8,6
7. Mariana Balbi - 13,4
8. Kasie Creson - 10.8
9. Sayaka Kaneshiro - 9,10
10. Elizabeth Bash - 14,9

2011 Motocross 450 Class Standings:
1. Chad Reed - 47
2. Ryan Dungey - 47
3. Ryan Villopoto - 40
4. Kevin Windham - 33
5. Brett Metcalfe - 32
6. David Millsaps - 32
7. Tommy Hahn - 26
8. Christophe Pourcel - 24
9. Ricky Dietrich - 22
10. Christian Craig - 18

AMA Motocross, AMA, ama racing, motocross racing, motocross 250 class racing, 250cc racing