Yamaha Moves ATV Production To America
Chaparral Motorsports
|
May 19, 2011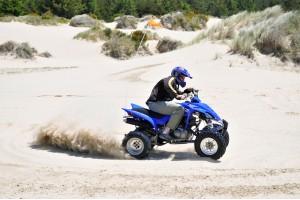 Yamaha has announced that they will be moving overseas production of their ATVs to the U.S., in a move that could potentially lead to cheaper prices for consumers.

The models, previously manufactured in Japan, will begin production later this month in Newnan, Georgia. For right now, the U.S. factory will share worldwide ATV production duties with the Japanese facility. However, the company plans to eventually ramp up the production to the point that the majority of ATVs are manufactured in America. Over the past decade, Yamaha has invested $250 million in the factory in preparation of the large transfer.

"This production transfer shows Yamaha's commitment to this facility and the U.S. motorsports market - the world's largest ATV market," said Henio Arcangeli Jr., Yamaha Motorsports President. "Manufacturing ATVs in Georgia will allow Yamaha to respond more quickly to its customers' demands while streamlining its supply chain and distribution processes."

If the company eventually eliminates the cost of imports, it could potentially mean cheaper vehicles for buyers in the United States. Prices don't tend to change in the middle of a model year, but next year's ATVs might be a bit cheaper than the year before.