Stewart Says He Won't Race At AMA Motocross Opener
Chaparral Motorsports
|
May 19, 2011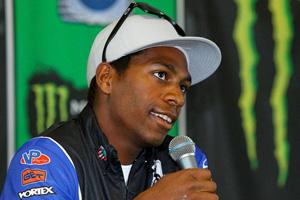 The roller coaster ride that is James Stewart's motocross career continues, as the rider has announced that he will not be racing in the opening round of this weekend's 2011 Lucas Oil AMA Motocross Championship.

Questions lingered about the rider's readiness after he suffered a foot injury in the finale of the AMA Supercross series. However, recent statements from the Stewart camp seem to indicate that the foot injury is not the only thing stopping him from competing.

"Everyone witnessed the way I struggled during the Supercross series this year and while I'd like to race this weekend, we just aren't ready," Stewart wrote on his website. "I hope fans will understand. The decision has been very hard to make, but we won't race till we're ready."

Stewart's final finish of fourth overall wouldn't be what most people consider "struggling" but it's tough to understand unless you watch the rider. At times, he seems like the most talented rider in the country - right before he makes a mistake that costs him the win. One can't count the number of times Stewart crashed out of the lead during this year's series. Combine that with his well-publicized off-track arrest for impersonating a police officer and it's been a tempestuous season for Stewart to say the least.

Still, no rider ever likes to give up a chance at points in a major racing series. Time will tell if Stewart can get back on the track and make a run at the championship, but he's putting himself in quite a hole to begin with.