Pedrosa Opts For Collarbone Surgery
Chaparral Motorsports
|
May 19, 2011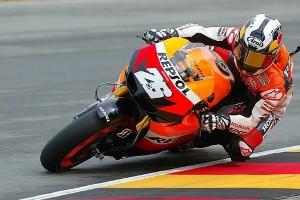 After a controversial incident on the track with rider Marco Simoncelli, Dani Pedrosa has opted to undergo surgery to repair his broken collarbone, in the hopes of returning in time for the June 5th Catalunya Grand Prix in his home country of Spain.

Simoncelli and Pedrosa's crash has been on everyone's minds this week, with some saying Pedrosa made a mistake while others claim Simoncelli was far too aggressive. Simoncelli moved to pass Pedrosa, but the two bikes were a bit too close and Pedrosa ended up clipping Simoncelli's back wheel. That sent the Honda rider tumbling into the gravel trap, breaking his right collarbone.

Although the break was clean and doctors said it would have healed itself, Pedrosa opted for surgery, hoping that it would speed his recovery so he won't have to miss any races.

Pedrosa has had a lot of collarbone-related trouble as of late, as the rider underwent surgery on his left collarbone back in April. Whether or not the rider will ultimately be able to race on June 5th remains to be seen, as his rehabilitation depends on many factors.

The Honda racer is still in the hunt for the championship, and currently sits in third overall in the points standings.