KTM Details Changes To Motocross Bikes
Chaparral Motorsports
|
May 19, 2011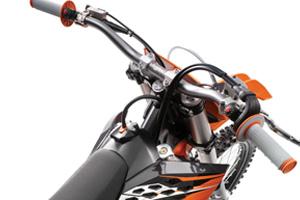 KTM has announced some new changes to its lineup of motocross bikes, with all six bikes receiving some changes for the 2012 model year.

The company currently manufactures three two-stroke bikes - the 125, 150 and 250 SX - as well as three four-strokes: the 250, 350 and 450 SX-F. These bikes are popular choices with motocross riders as they're affordable yet offer some great features that really prove themselves on the track.

Fans of the two-stroke models will likely be happy to learn that all three models now feature linkage rear suspension. The switch to a new dirt bike suspension is a pretty major jump for the model, so some other changes have been made as well - namely a new frame, shocks and tweaked suspension settings. The styling is also a bit different, with a newly reshaped white rear fender that's said to be a bit stronger than the previous incarnation of the bike. The 125 and 150 also get kickstarters, and the 150 has a new exhaust as well.

The four-strokes received decidedly less of an overhaul, but there are still some changes that fans will appreciate. Dunlop MX51 motocross tires now come standard on all three bikes. The 250 also gets a new electronic starting system, while the 450 has a brand-new clutch.