Team Husqvarna Has A World Class Weekend!
Chaparral Motorsports
|
May 18, 2011
Graffunder Sweeps LoggerXcross, Salminen & Meo Top World Enduro Rounds
What a weekend for Team Husqvarna's global racing effort! Stateside, Zip-Ty Racing's Cory Graffunder went 1-1 at the LoggerXcross as Husqvarna-Team CH Racing totally dominated the Enduro World Championship round in Sicily with Juha Salminen and Matti Seistola swapping E1 wins and Antoine Meo topping the podium in the E2 class. The wins in Sicily also put Husqvarna solidly on top of the EWC points standings for the top two classes.


"It feels really, really good to get my first win," said Seistola after Sunday's victory. "Winning here in Italy makes it even better since it is the Husqvarna team's home race!" Husky riders led the E1 class (250cc 4-strokes) on both days with Salminen finishing 1st and 3rd and fellow Finn Seistola finishing 2nd and 1st. These results at Francavilla di Sicily give Salminen an 18 point lead over second place as Seistola vaulted into 3rd in the season standings.


In the E2 class, French champ Antoine Meo demonstrated that Husky's new TE310 is a force to be reckoned with as he raced against the 450cc bikes in this class. If not for a couple mistakes on the first day, Meo could have easily gone 1-1, as it was he finished 2nd on Saturday, just 10 seconds behind the leader. On Sunday, the former E1 champ Meo won by a comfortable 36-second margin over Ivan Cervantes. This win puts Meo 19 points ahead of Cervantes in the E2 championship points. Special mention goes to Simone Albergoni who scored two 6th place finishes on his TE310, which moved him up to fifth place in the overall standings.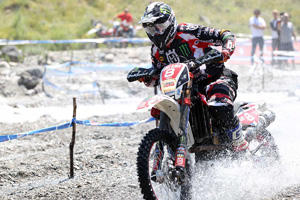 Closer to home, Canadian export Cory Graffunder also rode a TE310 to a pair of wins at the LoggerXcross in Orofino, Idaho. After winning this extreme endurocross event last year, Cory was looking forward to defending his title at the aptly named LoggerXcross. "It is very exciting, and very fun to ride," claims Graffunder. "We rode over a log ramp into an actual logging truck as part of the race course. There were lots of logs, rocks, a water hole and plank bridges... good stuff!"


Making his 1-1 sweep of the open class even more impressive is the fact that Cory rode his TE310 practice bike rather than his TE449 race bike. "It is very stock, but the motor is amazing! The stock bike is better than my race bike was last year... the power increase helps a lot at a race like the LoggerXcross." Graffunder used that extra power to grab the holeshot in the first race and then battle his way from third to first in the second race. "Good competition and close battles throughout made for great racing," says Graffunder.


"Every OEM likes to claim they offer 'world class' performance," says Husqvarna's National Marketing Manager Corey Eastman. "However Husqvarna likes to say that the results speak for themselves!" Eastman notes that Husqvarna is still offering world class 2.99% APR financing for 2011 machines and .99% for 2010 and earlier models, not to mention terms up to 60 months.