Stoner Tests 1000cc Honda Prototype
Chaparral Motorsports
|
May 18, 2011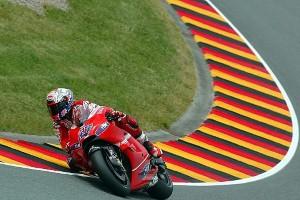 Just two days after winning the Le Mans Grand Prix, MotoGP points leader and Honda rider Casey Stoner was back on a bike - but not the one he used on Sunday.

The Australian rider had a chance to test the new 1000cc Honda prototype, which will be used in 2012 when MotoGP ups the displacement restrictions for their bikes. Stoner did 50 laps on the bike in Jerez, Spain, and gave his feedback to Honda engineers so that they can prepare the bike for next year's competition.

Stoner said that the ride went very well, but expressed disappointment that his teammate Dani Pedrosa was not able to join him. At the MotoGP event in Le Mans on Sunday, Pedrosa was injured in a controversial crash, which resulted in a broken collarbone.

"Everything has gone very well, very positive," Stoner told Cycle News. "It's just nice to ride the 1000cc again, to feel the engine and the power. I had a lot of fun, I enjoyed the first day because everything we've tried seems to be working, so no complaints. The biggest disappointment is that Dani is not going to be here to test, as he is important to the development of this bike.