Alpinestars Releases Two New Tech Boots
Chaparral Motorsports
|
May 13, 2011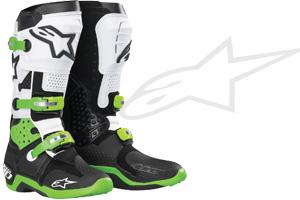 Alpinestars
has updated its lineup with some new offerings in the motorcycle boot department, as new versions of the Tech 10 and Tech 3 models are now available.

Most consider the Tech 10 to be among the top-of-the-line products available today as far as boots go. These off-road/motocross boots are mainly aimed at professional riders who plan on doing some significant racing. As such, they come with all the bells and whistles.

The first thing that riders will likely notice is how light they feel on their feet. At the same time, the boots don't sacrifice any of the control that pro-racers demand. Riders are getting the best material here with a mixture of polyurethane, leather and softer synthetic compounds on the inside. There's top protection included for every area of the foot and leg to avoid injuries, along with shock-absorbing padding to make those falls a little easier.

These boots cost nearly $600, so you have to be serious about your riding to make the investment. If you consider yourself more casual, look at the Tech 3. These boots are inspired by their more-famous high-end counterpart, but don't use as many expensive materials. The Tech 3 is also made in a style specifically for women, so it's a good choice for those female riders out there.