Zero Impresses At MiniMotor
Chaparral Motorsports
|
May 12, 2011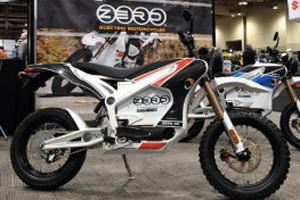 Zero Motorcycles proved dominant at the recent Geico AMA MiniMotor Supercross in Las Vegas, beating the electric field by a wide margin and even competing with some combustion engines in many cases.


The Zero team took the top four spots in the main event electric race, with Blake Mitchell, Jamie Lanza, Chris Green and Trevor Doniak making it a clean sweep for the electric motorcycle company.


"Our lap times, success in qualifying heats and speed during the race showcased the performance available today from Zero Motorcycles line of production electric dirt bikes," said Scot Harden, VP of global marketing for the company. "By leveraging the highly efficient and powerful advantages of our direct drive powertrain we were able to consistently beat the other electric competition by a wide margin."


While Zero's dominance of the electric race was impressive, e-bikes likely won a few converts thanks to its showing during qualifying. In an attempt to drum up interest, organizers decided to stage the gas and electric qualifying at the same time. The gas bikes would start the race first, as the "main event," while the electric races would be handicapped by a few seconds and start later, so racing fans could watch two packs of bikes at once.


Yet the Zero riders were so fast that they quickly caught up to the combustion bikes and passed quite a few of them before qualifying was over, a feat that's sure to turn some head in the racing community.