AMA Supercross Season In Review
Chaparral Motorsports
|
May 12, 2011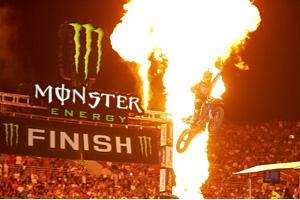 Now that the 2011 AMA Supercross season is in the books, fans will no doubt be looking back over the series and breaking down every race, every mistake and every unfortunate incident.

As Cycle News puts it, the key theme of this season might just be "what if?" Ryan Villopoto came out of the event with the championship, but in the end it was only by four points. With just a few races left to go, it seemed like five different riders could have ended up with the title: Villopoto, Chad Reed, Ryan Dungey, James Stewart and Trey Canard.

Canard was the first to fall, going down with a broken leg. Stewart was next after suffering one too many crashes. In fact, it was quite a roller-coaster ride for Stewart. He got out in front in a number of races but crashed an amazing five times while in first place. And that doesn't even count his off-track troubles with the law.

Reed tangled with Stewart on multiple occasions, but the worst was a crash that took both riders out while Reed was in second at Dallas. And Dungey, the defending champ, will surely lament the fact that his chain came off during the second race of Anaheim, forcing him to drop out of the race. Surely he could have used the extra points down the stretch, as he ended up just ten points behind Villopoto in third place.

In the end, what may have happened doesn't matter. The cards were dealt, and Villopoto ended up with the winning hand.